The discovery of an ancient, untouched Etruscan tomb recently touched off a frenetic sprint as archaeologists rushed to document their find before any number of factors -- rain, soft soil, looters lurking in twilight -- could spoil matters.
Read More
A Duke research team – including eight students taking part in the Duke in Tuscany program – played a central role in this intellectual maelstrom in Italy following the discovery of a 2,500-year-old tomb. The result was a learning experience impossible to replicate in a classroom or textbook.
"I've been studying ancient artifacts for much of my time at Duke and the experience of seeing the new tomb brought a palpable historical realness to my interests," said Tara Trahey, a Duke senior. "There's no experience in a museum where a feeling like that can happen."
The Duke team, under the leadership of Professor Maurizio Forte, was enlisted last week to use high-tech tools to document the tomb of a 10-year-old boy unearthed by a local archaeologist in Vulci, a dig site near the western coast of Italy. The Duke team is in its first year at Vulci and is the only American university certified to work there.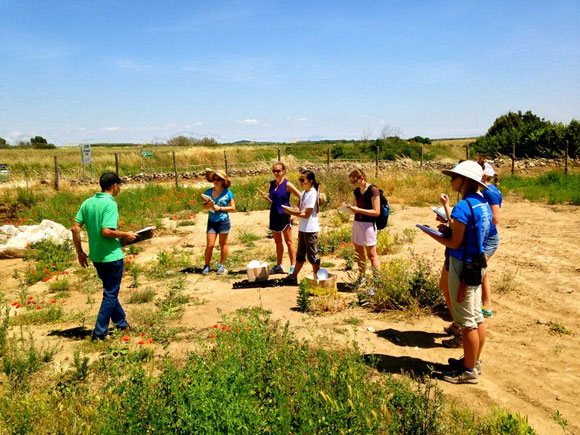 Archaeologists traditionally inventory a tomb discovery at least in part by taking notes and hand-drawn sketches, work that could take several days or more.
"It's usually more artistic than scientific," Forte said. "And not to scale."
But the Duke team used laser scanners and digital photo-scanning technology to create a series of 3D images and models. It took just an hour.
The team's fast work ensured that archaeologists working at Vulci will have a historical record of their find, just as it appeared when unearthed.
"This is a snapshot from the past," said Forte, a Duke professor of classics and art, art history and visual studies, in a Skype interview from Italy. "It's like an Etruscan shooting photos of his own tomb. It's important to have this because it's a very unstable soil here. It's like a cheese with a lot of holes, so you can have, at any time, a disaster. A wall could collapse."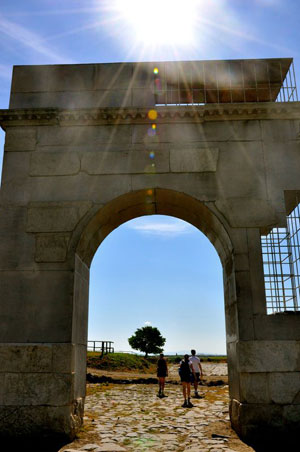 Students walk the ruins at Vulci, passing through the then-Roman city's honorary arch dating to the 1st century BCE.
Vulci is the modern-day remains of an ancient Etruscan city in the province of Viterbo, northwest of Rome, near the coast of the Tyrrhenian Sea. While it has been under excavation for decades, the Duke team's project marks the first time a tomb's excavation had been documented using 3D tools.  And it has been two decades since an intact tomb has been discovered there, Forte said.
Experts in Vulci believe the tomb is the final resting place of a young boy, probably around 10 years old. Carved into limestone, the tomb offers several clues to the child's upbringing. The position of his body and the condition of the bones help scientists determine age and gender, Forte said. And the small, iron knife buried near him is a symbol of wealth, suggesting he was from an aristocratic family, he said.
The experience with the rare tomb was a bonus for these students. Their three-week Duke in Tuscany experience was a crash course in high-tech archaeology as they used laser scanners, photo scanning, aerial photography, remote sensing and other methods to explore and map the Italian landscape. Dubbed "The Digital Landscape," the project employed drones to record aerial images used to create 3D models and map and reconstruct previously unknown features of the Vulci landscape, Forte said.
"This is a cutting edge project for the future investigations of archaeological landscapes in the Mediterranean and the rest of the world," he said.
Melissa Huber, a Duke Ph.D. student in classical studies, learned to use the photo-scanning software by practicing on small objects from a garden. She went to Vulci expecting to tinker with the technology there, but didn't foresee working on the excavation of a newly discovered tomb.
"Seeing ancient artifacts in situ has to be the most memorable experience," Huber wrote in an email from Italy. "In almost every case, once objects are excavated, they do not return to their original context, for conservation reasons."
Photo below: At Vulci's restoration and conservation laboratory in Montalto di Castro, Duke students prepare ancient stone fragments for study. All photos courtesy Justin Sandulli.