Free Training for 1, 5, 13-Mile Races
"Duke Endurance Team" returns in July to support wellness goals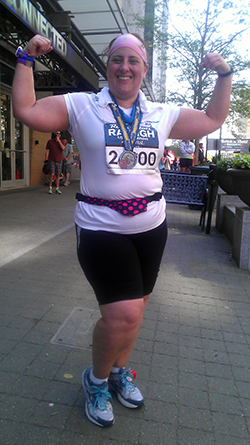 This spring, nearly 200 Duke employees participated in free marathon training to run in local and regional races, including Raleigh's Rock 'n' Roll half and full marathon.
Read More
Beginning in July, faculty and staff can once again take advantage of free support to fulfill their exercise and wellness goals again.
LIVE FOR LIFE, Duke's employee wellness program, is organizing a second season of training for the Duke Endurance Team, a group open to faculty and staff who want to prepare to run races up to 13.1 miles. The team is open to runners of all skill levels and experiences.
The goal of the Endurance Team is to get runners ready for the Bull City Race Fest on Oct. 19 in Durham. The event includes one mile, five mile and 13.1-mile races. Joining the team will also provide a $10 discount for the race entry price and a T-shirt.
"The best part about the Duke Endurance Team is it really is for everyone," said Katie MacEachern, a LIVE FOR LIFE fitness specialist and Endurance Team coach. "If someone has the goal of training and running a race, our planning will help them achieve it."
Training sessions will begin in late July to get runners fully prepared for the event. Biweekly group workouts will include speed work and stamina training, while LIVE FOR LIFE staff will supply weekly emails and training tips virtually for all runners.
"It's a great feeling to know there's a group of people that have the same goal in mind and they're there to support you," said Karen Newbery, an integrated library systems analyst with Duke Libraries' Core Services. She joined the Endurance Team over the winter to train for April's Rock 'n' Roll half marathon. "I liked the weekly reminders. It's a great plan with great people supporting you to help you reach your goal."
Running the Rock 'n' Roll was Newbery's first race of 13.1 miles, which she covered in three hours and 40 minutes. Even though the longest she had run in a race was 6.2 miles, she knew her training with the Duke Endurance Team prepared her.
"Knowing the program got me to a 14-mile run in training meant I felt really good on the day of the race," she said.
Faculty and staff can sign up online now to join the Duke Endurance Team. Participants can also sign up for the Bull City Race Fest using the discount code "DUKE" to save $10 on registration.