75 Years of Growth
Sarah P. Duke Gardens transforms from flower garden to tourist attraction
In a space spanning 55 acres and featuring thousands of species of flowers and plants, the birth of Sarah P. Duke Gardens started in 1934 with the hope for a space on Duke's campus for something simple: a flower garden.
That's how Dr. Frederic Hanes pitched his idea to Sarah Pearson Angier Duke, who donated $20,000 that year to help create Duke's famed attraction. Hanes, who was chair of Duke's Medical School at the time, championed the effort because he wanted to beautify the campus while adding educational opportunities.
Read More
"I hope some day it will be the means of making some real contributions to botanical science," Hanes wrote in a 1932 letter to Robert Flowers, Duke's second president.
Now, 75 years after the official dedication of the space, nearly 30 staff and hundreds of volunteers cater to a variety of administrative and horticultural needs of the Gardens, from planting flowers to fundraising. The Gardens' anniversary was celebrated May 2 to highlight its growth, which includes five distinct gardens and five miles of walkways. The Gardens attracts about 300,000 visitors each year.
"Beginning with a vision for a simple garden of irises, one of the world's most beautiful gardens has developed organically over the decades to become, in the words of retired Duke professor and distinguished historian Robert F. Durden, 'a prime glory of Duke,' " said Bill LeFevre, director of Duke Gardens.
For long-term employees, the growth of the gardens has mirrored the continuous changes of the plants to which they tend. Harry Jenkins started at Duke Gardens as an intern from North Carolina State University in 1971 and was hired as a full-time horticulturist in 1972. He's currently the Gardens' superintendent, a position he's held for 40 years.
"Today, it takes me about 90 minutes to walk throughout all the gardens, while in the 70s, it was a small portion of that to see everything," said Jenkins, who estimates he was one of about 10 Gardens staff when he was first hired. "I've stayed here all these years because I love this space and its beauty. Not the beauty I created, but the beauty from everyone who has worked and volunteered here."
Jenkins said a unique aspect of working at Sarah P. Duke Gardens is that humans only play a partial role in its upkeep. Ultimately, it's a collective effort between people and nature, he said.
In recent years, horticulturists have focused on the hardiness of Duke Gardens' plants.
"When I first started, we grew a lot of petunias and irises, but we have a lot more perennials and shrubs now to save on costs and labor," Jenkins said. "It's better for the warm, dry, summer weather we've been getting."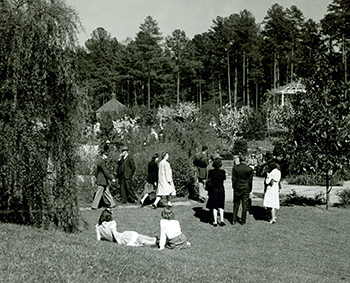 In 1942, visitors at Sarah P. Duke Gardens relax on the lawn. Photo courtesy of University Archives.
In spite of any intense heat, the spring and summer are favorite times for Klugh Jordan to visit Duke Gardens. Jordan, departmental business manager for the Environmental Sciences and Policy Division at the Nicholas School of the Environment, tries to go for a walk or eat lunch in the natural space at least once a week after winter is over.
"I knew about the Gardens before I came to work at Duke and immediately after I started here I knew it was a good place to take a break," Jordan said. "I love the Asiatic Arboretum with its tea house, bamboo and lovely pond."
That pond, now among the most popular visitor attractions with its ducks, herons and bright-red bridge, was something of a serendipitous creation. When Paul Jones started working at the Gardens in 1984, the grounds faced a flooding problem, which would send water runoff to the area where the arboretum is now featured. Today, the pond is designed to help mitigate potential flooding by holding up to 300,000 cubic meters of water and slowly releasing it into the local watershed.
"William Culberson, the director at the time, wanted to do something about the flooding, so he decided to take the previously undeveloped area and turned it into the pond and everything else that now exists," said Jones, curator of the Culberson Asiatic Arboretum, which bears the former director's name. "There's a close relationship between the flora of the Southeastern U.S. and flora of Southeast Asia, which has allowed us to grow wild forms of plants from each location. Culberson's idea from the get-go was to have them alongside each other as an educational endeavor."
But sometimes, the enjoyment of Duke Gardens harkens back to its original purpose – the beauty of a well-maintained garden.
Sarah Woodring, a clinical research coordinator at the Preston Robert Tisch Brain Tumor Center, takes a walk throughout the Gardens every workday, rain or shine. Weaving her way through paths alongside plants and flowers, she said taking 30 minutes to enjoy the space allows her to better appreciate the beauty of nature and refocus her mind.
"I can literally step out the back door of my building, cross the street and see flowers blooming and feel reenergized," Woodring said. "How many other places can you go to work and do that? It's one of my favorite perks of Duke – wonderful gardens right in my 'backyard.' "