From the Archives: 1954 Hurricane Causes Damage
More than 100 trees knocked down during historic storm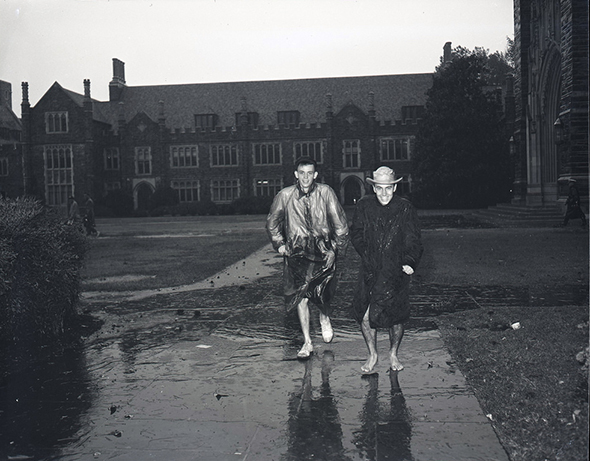 A day after Hurricane Hazel moved through Durham and Duke's campus, these two students were caught in the act of surveying the damage.
Hazel, which made landfall on October 15, 1954 near the North Carolina/South Carolina border, was the greatest natural disaster in North Carolina's history, killing 19 people and destroying about 15,000 buildings in the state. A Category 4 storm, the hurricane reached peak wind gusts of 155 miles per hour along the coast and topped out at 90 miles per hour in Durham.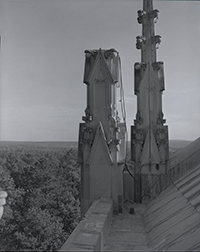 Damanged Duke Chapel spire. Click to enlarge.
At right, cracks were found in some of Duke Chapel's spires after Hazel passed through. It was just one part of nearly $4,000 worth of damage to campus, equivalent to slightly more than $35,000 today. More than 100 trees were knocked down, and Duke's maintenance director W.A. Whitford estimated it would take facilities staff up to three weeks to clean up campus.
"It may take thirty years to replace some of the uprooted trees," Whitford told the Duke Chronicle at the time. Whitford added that he was considering buying a power saw to speed up the removal of fallen trees. Wind also tore the roof off the press box at Duke Stadium, now Wallace Wade Stadium.
In a twist of poor luck, Hurricane Hazel came through Duke during 1954's homecoming, but it didn't dampen the event. Activities were still held over homecoming weekend, which welcomed thousands of alumni and guests. Shirley Held. a senior at Duke, was crowned homecoming queen by then-football quarterback Jerry Barger.
Below, members of Duke's Woman's College aid campus cleanup in the days after Hazel.