Student Laurels and Honors, 2014
National Awards
Truman Scholars
Duke University juniors Dominique Beaudry and Jamie Bergstrom are among 59 students selected as 2014 Truman Scholars.
Students are selected based on their records of leadership, public service and academic achievement, and their likelihood of becoming public service leaders.
Beaudry, a Benjamin N. Duke Scholar from Concord, N.C., plans to pursue dual master's degrees in public policy studies and education at Stanford University. As part of the Truman 2014 Washington Summer Institute, Beaudry plans to work in the district's public school system next summer.
Bergstrom, from Warren, Mich., plans to seek a master's degree in public affairs from Princeton University, where she will begin her study this summer as a public policy and international affairs fellow. For the Truman Summer Institute, Bergstrom intends to work in the U.S. State Department's Bureau of Population, Refugees and Migration.
Patrick Oathout and Jacob Tobia, members of the Class of 2014, won Truman Awards in 2013.
Goldwater Scholars
Eugene Rabinovich, a Duke University junior, has been selected as a 2014 scholar by the Barry M. Goldwater Scholarship and Excellence in Education Program. The award is designed to foster and encourage outstanding students to pursue careers in the fields of mathematics, the natural sciences and engineering.
Kushal Seetharam and Yaohua Xue of the Class of 2014 were selected as Barry M. Goldwater Scholars in 2013. 
Mitchell Scholarship
Daniel Strunk, a Duke senior, and Sanette Tanaka, a 2012 Duke graduate, are among 12 Americans awarded the prestigious Mitchell Scholarship for a year of graduate study in Ireland. Strunk, 22, of Cincinnati, plans to attend Trinity College Dublin for a master's degree in politics and public policy.
Strunk said studying in Europe will increase his knowledge of political systems and reform, which he hopes will allow him to better contribute to the reshaping of the Republican Party in the coming years.
University Awards
Faculty Scholars
Two Duke juniors who have compiled an exception record of undergraduate research and scholarship have received the Faculty Scholar's award, the highest award given to students by the faculty.
Tara Trahey (Art, Art History and Visual Studies) and Eugene Rabinovich (Physics) were honored for a record of outstanding research. Gift Nyikayaramba received honorable mention from the faculty. The three were nominated by department faculty and selected by a committee chaired by James Roberts, assistant professor of economics.
Seniors Daniel Leeco Stern and Katherine Zhang received Faculty Scholar recognition in 2013. Honorable mention went to Caitlin Brietta Finn and Madeline Dabinett McKelway
Pictured below, Trahey, Nyikayaramba and Rabinovich.
African and African-American Studies
Anastasija Karklina won the John Hope Franklin Award for Academic Excellence. She also received the Karla F. C. Holloway Award for University Service.
Art, Art History and Visual Studies
Nicole Yoon Ha Whang won the Mary Duke Biddle Foundation Visual Arts Award
Beatrix Esther Hutton and Sarah Joan Soltis won the Nancy Kaneb Art History Award
Joi Faith McLaughlin won the Sue and Lee Noel Prize in Visual Arts
Jordan Marie Noyes and Megan Leigh McSherry won the Visual Studies & Media Award
Art of the Moving Image
Prashanth Pokaloorie Kamalakanthan won the Outstanding Undergraduate Student Filmmaker of the Year award
Asian and Pacific Studies
Jimmy Guo, Suellen Li, Joy Chang Liu, Julia Ni, Eugene O. Senda, Jiarou Shen and Wenjia Xu received Sirena WuDunn Memorial Scholarships, given in memory of a Duke student to honor Asian-American students
Athletics
Nicholas Montgomery McCrory and Taylor Paige Virden received the ACC Plaque for Excellence
Biology
Andrew Louis Cangelosi won the James B. Rast Memorial Award in Comparative Organismal Biology
James Paul Senter received the Edward C. Horn Memorial Prize for Excellence in Biology
Jacob J. Golan received the Excellence in Plant Science Prize
Germain Yong Jia Min earned the Maggie Schneider Award in Marine Biology
Besse Beryl Cumming and Alissa Lillian Wall won the Biology Faculty Award
Biostatistics and Bioinformatics
Lauren Elizabeth Howard, Chenxiang Li, Fan Li, Xiaoyi Wang and Li Zhu received the Chair's Academic Recognition Award
Steven Paul Wolf won the Student Initiative Award
Lauren Elizabeth Howard earned the Student Leadership Award
Fan Li won the Overall Academic Excellence Award
Business
Samantha Ann Brody won the Asa T. Spaulding, Sr. Award for Leadership
Matthew Michael Heitz and Matthew James Seitz received the Breeden Award in Finance
Nicole Hawkins and Ashima Sehgal received the Distinguished Service Award
Dean's Recognition Awards went to Molly Anne Beck; Perry Reid Bolding; Shaw-chin Ioana Chiu; Samantha Marie Cibelli; Juan L. Danzilo; Sarah Catherine Feagles; Kathryn Ann Fogartie; Devon Taylor Gagliardi; Rishi Gupta; Richard Lee Karcher Jr.; Rae Elena Krucoff; Xinyu Lu; Nazeela Saira Nasseri; Ellen Christine Nichols; Roshni Rathi; Michael Joseph Rybacki; Michael William Slattery; Christian Reid Brown; Kyle Paulo Dos Santos; Lovereen Kaur; and Fareed Shoyaib Khan
Simon Christopher Moore-Crouch and Rachael Angelina Lambert received the Keohane Leadership Award
Brian Alexander Van Winkle won the Alan D. Schwartz Award for Mentorship
Chemistry
Jennifer Katherine Skerritt, Gihan Bhagye Hewage and Randall Timothy Kreulen received the American Chemical Society Undergraduate Award in Analytical Chemistry
Yaohua Xue earned the Merck Index Award
Jennifer Katherine Skerritt won the Department of Chemistry Award
Classical Studies
Rhyne King earned the American Philological Association Outstanding Student Award. He also received the Classical Association of the Middle West and South Award for Outstanding Accomplishment in Classical Studies and the David Taggart Clark Prize in Classical Studies
Cultural Anthropology
Melissa Chloe Bradley and Jennifer Lenore Sherman won the Judith McDade Prize
Sarah Elizabeth Rogers Berman and Natalie Mary Robles won the Paul Farmer Award for Justice and Social Responsibility
Dance
Rebecca Than-Li Thi Pham and Jayne Michelle Ratliff received the Julia Wray Dance Award       
Anna Marie Lipkin won the Dance Writing Award
Divinity
William Lester Glass won the Award for Excellence in Bible Studies.
Jennifer Zeller Potter won the Hoyt Hickman Award for Excellence in Liturgics
James Brock Meyer earned the Jameson Jones Preaching Award
McMurry Richey Awards went to Ashley Michelle Douglas for Outstanding Student in Field Education; and Elizabeth Adams Murray for Outstanding Student in Missions.
Center for Documentary Studies
David Delaney Mayer (pictured below) won the Julia Harper Day Award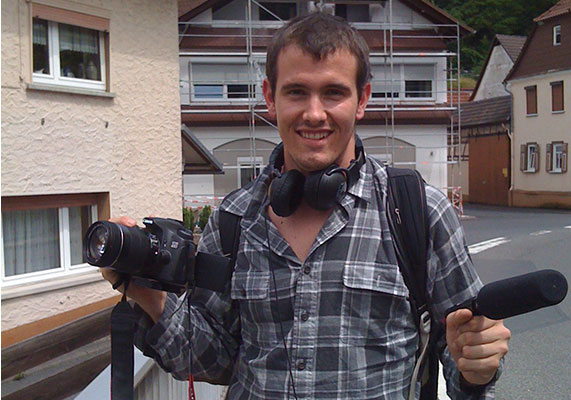 Earth and Ocean Sciences
Jennifer Sue Walker received the Thomas V. Laska Award
Economics
Alexander Bloedel was honored for the Best Honors Thesis for "Faith in the Future and Social Conflict: Economic Growth as a Mechanism for Political Stabilization."
Finalists were Dana Fenster, Richard Phillips Hogan, Madeline McKelway and Evan Myer
Madeline McKelway received the Outstanding Symposium Presentation. She also won the faculty vote for Outstanding Honors Poster, Outstanding Honors Poster, Lucas Hubbard and Christian Britto (joint thesis) and Winston Riddick won the student vote for Outstanding Honors Poster
Education
Nicole Daniels earned the Betsy Alden Outstanding Service-Learning Award
Taariq A. Watson won the D.T. Stallings Award
Andrew Leon Hanna, Kirsten Carmel Osborne and Parker Steven Poliakoff earned the Holton Prize for Education Research
Engineering
Thomas Julian Isola won the American Society of Civil Engineering Prize for Outstanding Senior
Alex Patrick Vaz received the Helmholtz Award
Sarah Madeline Eade received the Otto Meier Jr., Tau Beta Pi Award
Matthew George Rand and Perry Evan Simmons won the Aubrey E. Palmer Award
Robert William Plybon won the Eric I. Pas Award
Oriane B. Mathys earned the Theo Pilkington Award
Amay Nikunj Jhaveri earned the Charles Seager Memorial Award
Kushal Seetharam earned the George Sherrerd III Memorial Award in Electrical and Computer Engineering
Ifeoma Blessing Anyansi earned the William Brewster Snow Environmental Engineering Award
Sarah Madeline Eade and Tory Alena Lang received the Charles Rowe Vail Memorial Outstanding Undergraduate Teaching Award
Mark Andrew Hoffman received the David Randall Fuller Prize
English
Christopher Roberts Broderick received the Award for the Most Original Honors Thesis
Allison Elizabeth Shen earned the Barbara Herrnstein Smith Award for Outstanding Work in Literary Criticism or Theory
Brandon Joseph Maffei received the Anne Flexner Poetry Award
Haley Nicole Millner won the Louis J. Budd Award for Outstanding Work in American Literature
Emily Elizabeth Schon earned the Schutte Senior Award for Outstanding Contributions in Creative Writing
Environment
Suellen Simeng Li and Jessye Binah Waxman earned the Sara LaBoskey Award
Global Health
Stephen Mburu Kimani received the Outstanding Master of Science in Global Health Student
History
Lauren Elizabeth Jackson won the LaPrade Prize
Duke Human Rights Center at the Franklin Humanities Institute
Jacob Willis Tobia received the Oliver W. Koonz Human Rights Prize
International Comparative Studies
Leilani Elizabeth Doktor and Kendra Veronika Kirsonis won the Capstone Research Prize
Ieshia Smith received the ICS Distinguished Thesis Award
Marine Laboratory
Mary Helen Reichert, Germaine Yong Jia Min and Michael Paul Shaughnessy Jr. were named Rachel Carson Scholars
Mathematics
Daniel Leeco Stern and Daniel Robert Vitek earned the Julia Dale Prize in Mathematics
Daniel Robert Vitek and Lei Lei won the Karl Menger Award for Superior Performance in the 74th William Lowell Putnam Competition
Medicine
Eric W. Black-Maier; Brian Fredericks Gilmore; Kathryn Lee Griffin; Kathleen M. Kollitz; George Zhengliang Li; and Andrew Philip Martella earned Academic Awards
Bryan D. Choi received the Albert Schweitzer Fellowship
Rosanne Gilchrist Jones and Robert Amador Sickeler earned the Arnold P. Gold Foundation Leonard Tow Humanism in Medicine Award
Changrui Xiao received the Basic Science Research Scholarship -- Science Council Award
Michael Russell won the Basic Science Research Scholarship -- Fitzpatrick Research
Brooke K. Coleman; Theresa Crowgey; Kevin Ted Huang; Holly Kokinda; Josephine Huang Li; Richmond Adusei Owusu; Lauren Ashley Ring; Teresa Sue Wang; and Peter Wei received Clinical and Translational Science Awards
Ashley Mingshin Lee, Mengfei Liu, Cecilia Tuongquang Ong, Caitlin Redd Sacha and Ye Elaine Wang earned Davison Scholarships
Adam S. Barnett, Eric W. Black-Maier, Brian Fredericks Gilmore, Jonathan David Kochav, Steven Baxter Orr, Grace Snow and Peter Wei received Dean's Merit Scholarships
Felix Manuel Chinea, Fumiko Chino, Kyle Brian Gibler, Warren S. McCauley and Lauren Ashley Ring Earned Dean's Recognition Awards
Kirema I. Garcia-Reyes, Kahli Elizabeth McDonald Zeitlow, Michelle Oboite, Asishana Avo Osho and Kwadwo Owusu-Akyaw earnedDean's Tuition Scholarships
Mathew Thomas earned a Doris Duke International Clinical Research Fellowship in Global Health
Anne Donato and Jonathan Kochav received the Doris Parrish Cardiology Award
Adam Shane Barnett, David James Kopin, Josephine Huang Li and William C. McManigle received Eugene A. Stead Student Research Scholarships
Yilun Koethe was named to the Howard Hughes Medical Institute-National Institutes of Health ResearchScholar Program
Eric W. Black-Maier, Eddie Blay Jr., Anne Louise Donato, Tri Cao Le, Mengfei Liu, Caitlin Redd Sacha, Anikia Folosade and Kelena Tucker received Howard Hughes Medical Institute Research Training Fellowships
Alan Chang earned the Interdisciplinary Research in Medicine-Hyperbaric Medicine Scholarship
Mengfei Liu was honored by the Mayo Foundation
Martina Claire King and Rita Ouseph were named to the Primary Care Leadership Track
Nelson Frank Diamond received the Richard Schatz Travel Scholarship
Lulit Price was named the Ruth K. Broad FoundationMedical Fellow in the Neurosciences
Allison Ta was named to the Sarnoff Fellowship Program
Alexander Edwin Glaser, Kathryn Lee Griffin, Kevin Ted Huang, Kathleen Mattson Kollitz, George Zengliang Li, Caitlin Redd Sacha, Terry Singhapricha, Amy Y. Tong, Anikia Folosade Kelena Tucker and Ye Elaine Wang earned William Anlyan Scholarships
Fumiko Chino, Kelly Elizabeth Hathorn and Jenna Nicole McNeill received Barham Merit Scholarships
Asishana Avo Osho and Kyle Gibler earned Third Year Dual Degree Scholarships
Kirema I. Garcia-Reyes won the Thomas Jefferson Award
Mengfei Liu earned the Vice Dean's Research Award
Military Science Army ROTC
Alexandra LaForge Schade and Andrew Michael Rotolo were named Distinguished Military Graduates. Rotolo also received the George C. Marshall Award
Music
Robert Howard Unger received the Anne Marie Parsons Memorial Prize
Samantha A. Giugliano won the Henry Schuman Music Prize
De'shaun Gordon King (pictured below, in red) earned the Julia Wilkinson Mueller Prize for Excellence in Music
David Kirkland Garner won the William Klenz Prize in Music Composition
De'shaun Gordon King and Xueyang Wang earned the Paul R. Bryan Award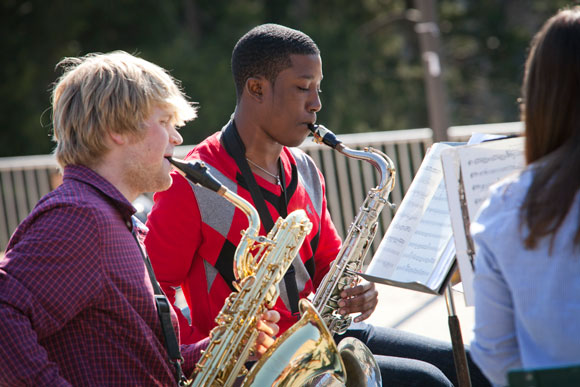 Nasher Museum
Ariel Daphne Shpigel received an Internship at the Peggy Guggenheim Collection in Venice, Italy
Naval Science
Daniel Steven Stefanus won the American Veterans Award
Marisa Cynthia Zahn was named the CNO Distinguished MIDN Graduate
Christopher Raymond DeBarge received the Colonel Frederick Knops Leadership Award
Sarah Joanne Kline won the Daughters of the American Revolution Award
Christopher Raymond DeBarge was honored by the National Submarine League
David Ryan Blanchard received the Scottish Rite Award
Adrian Scott Lehnen earned the USAA Spirit Award
Nursing
Christopher Thomas Reed received the Annie Beery Bieber Award for Outstanding Leadership Award
Jonathan Ronald Medina-Beckwith earned the Ruby L. Wilson Excellence in Clinical Practice Award
Kevin Patrick Momber won the Thelma Ingles Excellence in Clinical Expertise and Scholarly Activities Award
Office of Health Professions Advising
Biqi Zhang received the Raymond Lublin, M.D. Award
Physical Therapy
Allyson Sutkowi-Hemstreet won the Duke Doctor of Physical Therapy Diversity Award
Keaton Ann Ray earned the Helen Kaiser Duke Physical Therapy Alumni Association Award
Huda Tanveer Bhatti, Bethany Grace Buzzell, Meera Parekh, Lauren Nicole Russo, Layla Seyedahmadian, Dana Lauren Sroka, Allyson Sutkowi-Hemstreet and Holly Ruth Thompson earnedHelen Kaiser Scholarship Awards
Bethany Grace Buzzell and Holly Ruth Thompson won Student Recognition Awards
Physics
Jackson Van Horn Matteucci earned the Daphne Chang Memorial Award
Political Science
Christopher Delaney Brown, Desmond Jamal Lee, Colin Sarver Scott and Daniel Frederick Strunk received Alona E. Evans Prizes in International Law
Jakob Carl Thomas Blomqvist won the Elizabeth G. Verville Award
Jessica Sara Sun earned the Ole R. Holsti Award in American Foreign Policy and International Relations
Carolina Elisabeth Hall won the Robert S. Rankin Award in American Government and Constitutional Law
Allison Lynne Denburg won the Robert S. Rankin Award in American, National, State, and Local Governments
Stefani Ariel Jones and Daniel Frederick Strunk received the Robert S. Rankin Award for Leadership and Academic Achievement
Psychology
Jeremy Ross Chaikind and Ricardo Guerra won the Karl E. Zener Award for Outstanding Performance of an Undergraduate Major in Psychology
Public Policy
Michelle Christine Burrows, Li-Kuang Chen, Marissa Weil Medine and Hong Zhu won theJoel Fleishman DistinguishedScholar Award
Romance Studies
David Edwin Lillington earned the Guido Mazzoni Prize in Italian
Haley Nicole Millner received the Richard L. Predmore Award in Spanish
Aman Sarihyan Bali and Carolina Lyrio won the Robert J. Niess/Alexander Hull Award in French
Student Affairs
Steven Harris Blaser, Anastasija Karklina, Anays Murillo, Jacob Willis Tobia, Andrew Michael Rotolo and Nandini Krithika Srinivasan received the Student Affairs Distinguished Leadership and Service Award
Li-Kuang Chen, Robert James Collopy, Edward Denzell Faison, Andrew Leon Hanna, Eneka Marie Lamb, Joy Chang Liu, Leah Jennifer Mische, Craig Joseph Moxley, Nandini Krithika Srinivasan, Jacob Willis Tobia, Jessye Binah Waxman and Emma Sleight Wilson won the William J. Griffith UniversityService Award
Theater Studies
Philip Lillemon Watson and Shu Cao Mo received the Alex Cohen Award for Summer Initiatives in Theater
Abigail Leigh Glackin and Ainan Liu won the Dale B.J. Randall Award in Dramatic Literature
Samuel Ayele Kebede received the Dana Marks Award for Outstanding Acting
Andrew Thomas Klingner earned the Harold Brody Award for Excellence in Musical Theater
Lindsay Elizabeth Samuel won the Jody McAuliffe Award for Excellence in Directing
Philip Lillemon Watson won the John M. Clum Distinguished Drama Award
Hillary Benarde Spiritos (pictured below) received the Kenneth J. Reardon Award for Theater Design, Management or Production
Daisygreen Webster Stenhouse won the Reynolds Price Award for Best Original Script for Stage, Screen or Television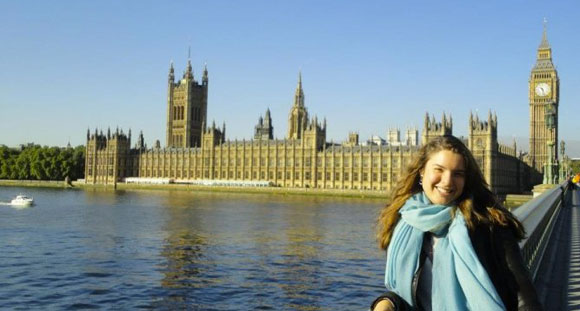 Trinity College of Arts and Sciences
Danielle Katherine Nelson won the Bascom Headen Palmer Literary Prize. Honorable Mentionwent to Christopher Roberts Broderick
Minshu Deng, Rebecca Holmes, Samuel Ayele Kebede, Andrew Thomas Klingner, Ashley Diane Long, David Delaney Mayer, Megan Leigh McSherry, Shu Cao Mo, Jazmine Victoria Noble, Kathryn Reeves Pearson, Jayne Michelle Ratliff, Allison DeForest Rose, Ariel Daphne Shpigel, Julian Saunders Spector, Hillary Bernarde Spiritos and Philip Lillemon Watson received Edward H. Benenson Awards in the Arts
Nicholas Dernbach Ashur received theJames Rolleston Prize for Best Honors Thesis Written in a Foreign Language
Wenjia Xu won the Louis B. Sudler Prize in the Creative and Performing Arts
Women's Studies
Sarah Gilchrist Frothingham earned the Dora Ann Little Award