Duke Students Inducted into Phi Beta Kappa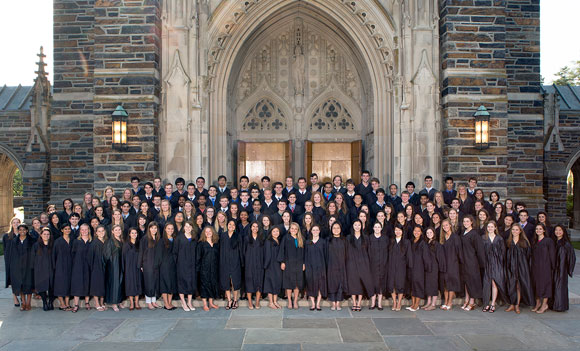 Nearly 200 Duke students joined Phi Beta Kappa, the nation's oldest academic honor society Thursday signing their names into the Beta Chapter of North Carolina registry.
"I have my parents and sister who live and Durham and my aunts have come all the way from India for the whole graduation weekend, which is great," said inductee Anosh Sethna.
Sethna's mother, Manjiri Sethna, said it was a proud moment for her. "It definitely warms my heart," said Manjiri Sethna. "But more than that the realization that he is a hard-working student and for that hard work to bring him to this point, and to be recognized, means a lot to me."
The mechanical engineering major will be work for Tesla after graduation.
Founded in 1776, Phi Beta Kappa elects more than 15,000 new members a year from 276 chapters across the United States. The Duke Chapter, Beta of North Carolina, was formed in 1920 at Trinity College.
The chapter's four Phi Beta Kappa faculty officers initiated and welcomed the new members last night with the society's traditional handshake. Officers, also Phi Beta Kappa members, are: Steve Nowicki, president; Lee Baker, vice president; Michael Gustafson, secretary/treasurer; and Betsy Alden, member-at-large.
Incoming Duke provost, Sally Kornbluth delivered the keynote address, reminding the inductees that Phi Beta Kappa membership is an extraordinary achievement. "You are in the excellent company of many other scholars, including 17 former Presidents of the United States, 136 recipients of the Nobel Prize, and seven of the current sitting members of the United States Supreme Court."
Kornbluth also encouraged the inductees to take risks. "These accomplishments should provide you with confidence to find things outside of your comfort zone and to follow your passions, even if it is difficult. You should always be proud to say you are a member of this club."
2014 Duke University Beta of North Carolina Chapter inductees include:
Lauren Rose Acampora, Jessie Lee Anderson, Rachel Apostoles, Paige Krystin Arnold, Michael W. Asher, Thomas M. Atwood, Emma Ashley Babb, Katherine Marie Baker, Neha Bakhai, Kaitlin G. Barasch, William Howard Barlow II, Ryan Alexander Bartholomew, Benjamin S. Berg
Lauren Nicole Blazing, Katharine Maria Bodack, Thomas Arthur Boyle, Melissa Chloe Dillistin Bradley, Joel Bray, Christopher Roberts Broderick, Michelle Christine Burrows, Jay Alexander Canarick, Yilin Cao, Emily Chang, Li-Kuang Chen, Christine H Cheng, Hwamin Chung, Katharine Tyler Clark
Fangdi Cong, Hannah Michelle Cranston, Leah Croll, Besse Beryl Cummings, Evan Scott Darwin, Katherine Davis, Rajlakshmi De, Allison Lynne Denburg, Nikolai Bogdanov Doytchinov, Xuan Duong, Yvette Dzumaga, Michael Charles Farruggia, Anne Willie Feinberg, Kevin J. Fertig
Emily Elizabeth Foltz, Alyssa Fowers, Jordan Fraser, Jonathan Yunshan Gao, Eliza Rose Gentzler, Christopher-Marcus Gibson, Ryan Christopher Gimple, Victoria Christine Grant, Anna L. Gravier, Peter Thomas Gudaitis, Sadhna Gupta, Michael Fakhrey Habashi, Donald Louis Hall Ajeet Pal Singh Hansra
Emily Marie Harris, Kevin K. He, David Russell Hemminger, Bryn Morgan Hilton, Elizabeth Ruth Holmberg, Jennifer Huang, Lucas Alexander Hubbard, Keeley Hunter, Elizabeth M. Jazwiecki, Michael R. Kahn, Prashanth Pokaloorie Kamalakanthan, Eun Won Kang, Kirsten Elana Kaplan, Jamie Ilana Kessler
Allison Meijay Khoo, Alice S. Kim, Hyunji Angela Kim, Sanjay Tunuguntla Kishore, Rachel Lyn Koslow, Allison K. Kratka, Neil Jay Krishnan, Danielle Marie Kubicki, Rebecca A. Kuzemchak, Gregory Anthony Lahood, Rebecca Lai, Christine Elizabeth Larson, Justin Henry Leder, Natasia C. Leung, Shirley Xueli Liao, Tiffany Jia-Huey Lieu
Heehyun Lim, Xuan Hong Lim, Jordan Scott Lincenberg, Diana Wuqiong Liu, Haisi Liu, Jenae Elaine Logan, Rory Justin Lubner, Deandra Mann, Michael John Maranzano, Camille Anne Mathey-Andrews, Courtney Rose Matteson, Jackson Van Horn Matteucci, Christine Lynn McConnell, Anne Oliver McDonough, Ryan Alexander McGeehan, Madeline Dabinett McKelway, Mary Elizabeth McLaughlin
Bridget Frances Meaney, Manuela Mejia, Brandon Metra, Alexandra S. Middleton, Michael Ryan Migotsky, Haley Nicole Millner, Leah Jennifer Mische, Cynthia A. Moffitt, Deborah J. Moon, Yijia Mu, Jessica Leigh Narloch, Lauren Nathan, Omar Munier Nazzal, Subham Neupane, Adrienne Niederriter
Hilary Anne Novatt, Taylor Shea Novice, Gena Michele Olan, Lauren Jane Ord, Lindsey Taylor Osteen, Sung Bae Park, Maxwell William Parlin, Mollie Pathman, Kathryn Reeves Pearson, Camille Elise Peeples, Daniel Lee Pelzman, Zornitsa Petkova, Jackson Ray Pfeiffer, Rebecca Thanh-Lan Thi Pham
Lorelei Renee' Phillip, Aliya R. Pilchen, Anne Katherine Piotrowski, Mrinalini Revathi Prasanna, Nicholas William Prey, Matthew Julian Pun, Eugene Simon Rabinovich, Lydia R. Rappoport-Hankins, Ruby Elizabeth Reed, Mason English Reynolds, Rebecca Anne Richards, Naomi Alma Riemer
Annmarie Katherine Rodriguez, Ashley L. Ruba, Meghan Nicole Scanlon, Brett Thomas Schnobrich, Matthew Lloyd Schorr, Ryan Thomas Seneff, Anosh Phiroze Sethna, Akash Atul Shah, Michael Paul Shaughnessy, Jiarou Shen, Tess Adina Shiras, Yekaterina Sergeevna Shpanskaya, Shweta Shukla
Justine Sinnaeve, Allison Michelle Smalley, Sarah Soltis, Claire Allegra Sorrenson, Julia Irene Spinnenweber, Lillian Stiff, Daniel Frederick Strunk, James Rongkang Sun, Divya Taneja, Yunqian Tang, Grace Marie Tewkesbury, Tara Moran Trahey, Samantha Truong, Sarah Laine Tufano, Robert Howard Unger
Tamara E. Van De Star, Stephanie Lauren Vara, Rebecca Lee Vernon, Amit Raunak Vora, Ha Ngan Vu, Katharine Elizabeth Waldman, Alissa Lillian Wall, Alexis Mayumi Wallace, David Xudong Wang, Jessica Sui Wang, Ran Wang, Joshua Mitchell Weiss, Kimberly C. Welch, Alexander Joseph Wertheim
Chelsea Lynn Wezensky, Kathryn Wheelock, Krista Lynn White, Amy E. Wigger, Eli P. Wilber, Elizabeth Ann Wiley, Hope Rebecca Winfield, Alyssa Danielle Wong, Mengya Wu, Likun Xi, Leah D. Yaffe, Germaine Jia Min Yong, Sunhay You and Mo Zhou