Baccalaureate 2014: The Path to Doing Interesting Things
President Brodhead tells new graduates to deliver 'the full measure of their talents to the world'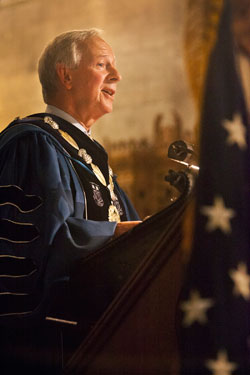 A few weeks back I learned the name for a technique health care workers use with people with chronic illness: motivational interviewing. When doctors used to say, "How often do you forget to take your medications?" the question was found accusatory and humiliating, drawing attention as it did to personal failure, and led to no improvement in compliance. Medical people have found that they get better results if they approach more obliquely and sympathetically, as for instance: "It's so hard to remember to take all those medications, isn't it? I forget mine all the time. How often do you get around to taking yours?"
Friends, in these last weeks I have found myself constrained to approach you with similar delicacy. I can't just say, "So, do you have a job?" Your shame-faced stares are too appalling -- it's as if you'd been stripped naked, exposed for the mass of deficiency that you are. So I've tried to find greetings that allow you to share your plan if you happen to have one, and blithely ignore the issue if not. President Brodhead: "So, are any ideas for after college beginning to seem appealing?" Or if that's too direct, "Any idea what cities you might like to live in after Duke?" Or at the limit of euphemism, "It's hard to piece your life together, isn't it? I know I'm always making a mess of mine. Anything you could share with me on how you're approaching it?"
I jest, but this is no joking matter. Let me be blunt. Duke Class of 2014, you are on the verge of an unprecedented transition. Since you were a toddler, your life has been organized by an overarching narrative that perfectly specified what you should be doing and what you would do next. What do you do after fourth grade? You go to fifth grade. What do you do after middle school? You go to high school. What do you do after high school? You go to college; if favored by the gods, maybe even to Duke. What do you do after college? Um ...  
Now, for the first time in your life, there's no answer readily supplied; for the first time, it falls to you to come up with an answer. And it doesn't help that you're reaching this transition just when our national discourse is fixated on jobs, jobs, jobs as the unique goal of higher education. Some states are compelling colleges and universities to make public the employment record of their graduates for the first year after college, with starting salary broken down by major, so parents can see how college paid off. Some enlightened parents try to make things easier by telling their kids, you don't have to settle for a job you'll hate. Follow Your Passion! Of course, that only makes things worse if you're one of the non-trivial number who can only reply, "I gladly would, but I don't seem to have one!"
Now, I don't want to minimize the dauntingness of the place you find yourselves. It's strange, for the first time ever, to be responsible for figuring out what you're going to do with your life. At this juncture, you might think I'm going to console you, but instead I'm going to enlarge your distress. Class of 2014, now hear this. Not a single one of you has any idea what you're going to be doing 10, let alone 20, years from now. Some of you know you don't know -- the ones of you without a definite plan. Many of you have a plan but know you'll have to revisit the question a short year or two out. As for the few who are confident that you know exactly where you are heading, you have no idea what twists and turns your road is going to take.
You don't know the rest of the story of your life. If you think you do, you are wrong. That's not a bad thing. It's just the way life works.
The single greatest pressure smart people live with is the myth of the perfect biography, the expectation that you will move in a straight line from success to success to some successful end. You've done great so far: your early success led to successful admission to Duke, which the whole world knows is a synonym for success. But this is never the way any interesting life is actually shaped. I meet Duke alumni every week. They're doing a zillion amazing things, but not one of them could have named their future destination on the day they graduated.
When the Affordable Care enrollment website malfunctioned so spectacularly last fall, the person who was called on to straighten out the mess was a Duke alum. Why was he asked? Because he was a health care expert, or a computer science major in college? He was neither. When he left Duke, he joined a consulting firm, went to business school, then he and a partner founded their own firm, built it, and sold it. Later, he entered public service, became the Deputy Director of the Office of Management and Budget and was named the first-ever United States Chief Performance Officer, charged with bringing the private sector's best management practices to all government operations; more recently he was named chair of the National Economic Council. The complex problem-solving skills he acquired in multiple domains are what equipped him to step up to this big challenge and find a fix.
At this winter's Women's Weekend I interviewed a Duke alumna who majored in zoology, went on to get her PhD in biology, and followed that not with the expected job in academia or a biomedical lab but by taking a position at a zoo. Her growing knowledge of zoos as agents of education and conservation led Disney to recruit her to plan and direct the new theme park Animal Kingdom. From there, she was put in charge of sustainability strategy, policy and goals for the whole Walt Disney Company as Senior Vice President of Corporate Citizenship, Environment and Conservation. She's still not old, so I can't say what she'll do next.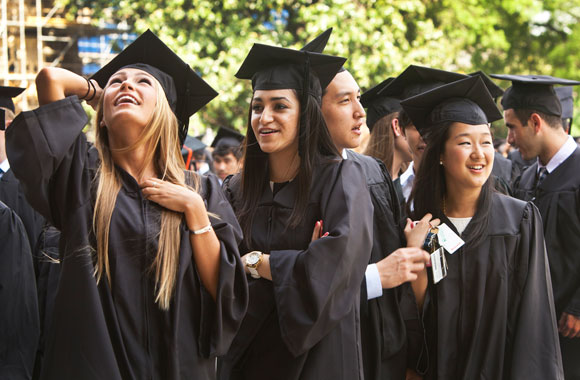 Above: Students prepare to enter Duke Chapel for Friday's baccalaureate service. Photo: Chris Hildreth/Duke University Photography
This year one of Crain's New York Business Magazine's "40 Under 40" was, of course, a Dukie. She danced as a child but came to college on a premed track, then switched to English, and, among other things, took a course from Manny Azenberg on theater production. Post graduation, she got a job reading scripts for a Broadway producer, where she had a chance to learn the fundamentals of putting together creative teams and business plans. Ten years out, this child of North Carolina is at home in Manhattan and managing director of Lincoln Center Global, a consulting practice for arts organizations.  
Last fall the New York Times ran a front page story about big city types making new careers in economic backwaters. The poster boy in this story was another Duke alum. (Don't the graduates of other universities do anything interesting?) Originally from New York City, he had been sent to West Helena, Arkansas, for his Teach for America posting after Duke. From there he became a software developer but later resolved to move back to the Arkansas Delta, even at the cost of a two-thirds cut in pay. Now he is a civic leader, founder of the local Boys and Girls Club, and, as director of the Chamber of Commerce, a driving force for economic revitalization of the place he now calls home.  
I trust you're beginning to get my point. To assure that you don't miss them, I will number today's lessons. (1) The world is full of interesting things to do, very few of which you'll ever get a glimpse of from within the confines of a university. To be in a position to find them, you have to get out there.
(2) No interesting career is a straight line to a predetermined goal. If you end up 20 years from now in a job you can visualize today, that will prove that you are either a singular genius or, quite as likely, a cowardly dullard. The people in my stories took their chances, made a start somewhere, threw themselves into it, learned from it, then, on that basis, found something else to jump to, then something else, discovering their path step by unfolding step.
 (3) As for success, you're right that your goal should be to deliver the full measure of your talents to the world. My stories are all about people learning how to use their unique gifts. But this does not happen all at once.  It's a little cruel to ask people who are twenty-one or twenty-two and have never been anywhere but school to already know with ardent certainty what one thing they want to give their life to. Some people feel a powerful calling early on, but most people are "sort of" interested in a lot of things, and only find the thing that unleashes their full abilities by trying things out, including by trial and error. I told this year's entering freshmen that in place of "Follow Your Passion," a good motto is "Give Your Passion a Chance to Find you." That's what you can go do now.
But wasn't college supposed to help you to a fulfilling life? It was and it will, but not in the sense of making you an instant winner. After he defeated Napoleon, the Duke of Wellington said that the battle of Waterloo was won on the playing fields of Eton. He didn't mean that sports are war in another guise. He meant that the skills he learned in earlier life in apparently idle activities -- skills like discipline, teamwork, the ability to combine strategic planning with improvisation in face of changing circumstances -- those deep skills turned out to serve him in later life in a totally different context, in a way he could not have imagined let alone intended at the time they were being acquired.
In a column Tom Friedman wrote on how to get a job at Google, the head of employment there said that the least important thing his firm looks for in new hires is specific expertise. Instead they look for broad cognitive abilities -- the ability "to process on the fly," innate curiosity, the willingness to learn, and the ability to participate fully and creatively in group endeavors. (I visited the Google headquarters in February, by the way. There I was shown the self-driving car by -- guess who? -- a Duke alum from the class of 2010.) You have been practicing these very skills in every form of work or play you've engaged in these last four years. Only time will reveal what personal Waterloos you were equipped to win on the playing fields of Duke.
My friends, motivational interviews aren't just a form of courtesy. With chronic diseases like diabetes, the patient has to manage his or her own illness the great majority of the time. Doctors try to avoid provoking defensive responses because they want to enlist these patients in the project of their own care, to help them be mindful and committed to the everyday steps that they alone can take.
So with you. The day you step out of the plotline that's governed your life from pre-school through college is the day you become the author of your life. Much has been done to prepare you, but henceforth, you and you alone will be responsible for your well-being and well-going. You've got the skills. Now it's a matter of attitude. Live a life of risk-aversion and self-centered concern for conventional success, and it could be a pretty dull journey. Write your story with venturesomeness and keep reaching to learn the full extent of your powers, and the prognosis will be excellent.
You will miss your beloved life here, but I promise: the best of life is only now about to begin. Do you doubt it? Trust me. I'm a doctor.