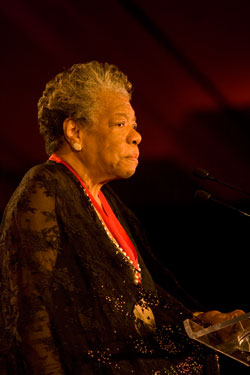 Caroline Fairchild's first week at Duke is largely a hazy memory six years later. But the convocation address she attended during orientation week in 2008 is still crystal clear in her mind, thanks to the wise words offered that day by Maya Angelou.
"It was right after the financial crisis and toward the beginning of the recession and things were pretty grim," Fairchild, a 2012 Duke graduate, recalled Wednesday. "I remember Angelou said she viewed all of us students as 'rainbows in the clouds.' She encouraged us to be kind to our peers and to take advantage of everything that Duke had to offer. I left her speech feeling empowered and inspired to make the next four years as meaningful as possible."
Fairchild, now a reporter with Fortune Magazine, joined many Duke students and alumni in taking to Twitter Wednesday to eulogize Angelou upon word of the legendary author's death. Angelou, of Winston-Salem, had a long connection to Duke, speaking to first-year students during the university's annual fall convocation 24 times.
"Dr. Angelou has played a significant role in setting for each class a vision of Duke and the opportunities before them and inspiring them to do great things with their lives," said Larry Moneta, Duke's vice president for student affairs. "I am thankful for all the years we had with her, and all the remarkable words she shared. Her loss is tragic for us all, and I am sorry that future classes will not have her to usher them forward, but her spirit will live on at Duke."
Among alumni, Angelou's words left an impression.
"Maya Angelou spoke to my freshman class our first day at Duke," Taryn O'Neill, an actress and Duke graduate, wrote on Twitter. "She was the soaring voice, presence & words that welcomed me to America. RIP."
Recent graduate Jennifer Sherman authored the student address during Duke's commencement ceremony earlier this month. In it, she recalled her own freshman convocation and noted Angelou's best advice to young college students.
"She told us to carry around poems, write them down on pieces of paper and put them in our bags or pockets. And that first week of school, I did. Because when Maya Angelou tells you to do something, you do it," Sherman said May 11 at Wallace Wade Stadium.  "I spent that first week of school with a single line written on a scrap of paper in the front pocket of my backpack. It's from the Roman philosopher Terentius and Maya Angelou had made it the focus of her speech that year. 'I am a human being. Nothing that is human can be alien to me.'"
Mark Anthony Neal, a Duke professor of African and African-American Studies, said Angelou's autobiography "I Know Why the Caged Bird Sings" should be required reading for high school students.
"Her poems 'And Still I Rise' and 'Phenomenal Woman' are easily the most recognizable from an African-American poet over that last half-century," Neal said. "As an icon of black life in the late 20th Century, Maya Angelou, along with the recently passed Amiri Baraka, was one of the most visible literary figures in American society -- a point that was brought home more than 20 years ago when she was chosen as inaugural poet for Bill Clinton."
"A sage has crossed the Jordan River," said the Rev. Luke Powery. "May she rest in peace." 
"Dr. Maya Angelou was one of the first people I met when I arrived at Duke in 2012," Powery added. "She was the last person to use my office before I officially took office as dean of the Chapel. On that August afternoon, my family met her in my office and took a picture with her, a picture I keep displayed today on a shelf in that same office. We surrounded her as a standing cloud of witnesses as she sat in the center. She was full of grace, warmth and welcome. When she spoke to the incoming first year class in the Chapel on the afternoon, her theme was rainbows in the clouds. As she spoke, I realized that in what was a quick transition to Duke, a foreign land at the time, she was a rainbow for us, a divine sign that we were not alone on this journey."