Unpark Yourself on Earth Day, Win Prizes
Share a picture of yourself using a sustainable commute to campus on April 22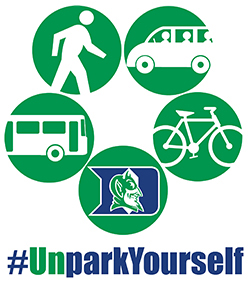 On Earth Day - April 22 - Parking and Transportation Services and Sustainable Duke are encouraging faculty, staff and students to "unpark yourself" by trying an alternative commute and helping to reduce Duke's carbon footprint.
Read More
By snapping a photo of yourself participating in a sustainable commute, you'll be entered into a drawing to win a variety of prizes, including water bottles, frisbees, bamboo utensils and grand prize packs. Photos can come from any form of alternative transportation like carpooling, vanpooling, using Enterprise CarShare, riding a bus, scooter, motorcycle or bike or even walking.
"Earth Day is a great time to celebrate the daily actions we can take to reduce our environmental impact," said Casey Roe, outreach coordinator for Sustainable Duke. "We see more Duke community members trying alternative ways to get to campus and look forward to see these commutes reflected in the photos."
Here's how to participate:
1. Snap a photo of yourself on April 22 participating in a sustainable commute.
2. Share the picture that day on Twitter or Instagram with the hashtag #UnparkYourself. Images can also be sent to working@duke.edu or posted directly on the Working@Duke Facebook page.
Currently, Duke has nearly 1,600 employees and students registered to commute to campus by bike, vanpool and carpool. There are also about 7,000 active users of the GoPass, which allows for free rides on local and regional transit routes.
After #UnparkYourself photos are collected, Working@Duke will compile submissions into a photo album on its Facebook page.
Duke community members can also join other Earth Day celebrations throughout April. A full list of events is available on the Sustainable Duke calendar.