Student Speaker Selected for Duke's Commencement
Jennifer Sherman to describe how "extraordinary and ordinary moments" come together to transform student lives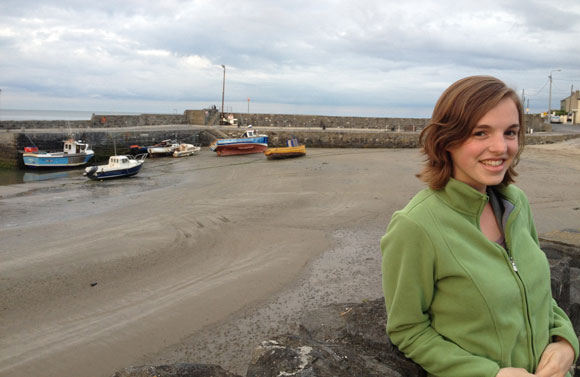 Duke senior Jennifer Sherman plans to describe how "extraordinary and ordinary moments" come together in distinctive ways to transform student lives when she delivers the student speech at the university's commencement ceremony Sunday, May 11.
A campus committee selected Sherman to speak at the ceremony, which is open to the public and begins at 10 a.m. in Wallace Wade Stadium. Gen. Martin E. Dempsey, chairman of the Joint Chiefs of Staff and a Duke alumnus, will deliver the commencement address.
Sherman, from Bay Village, Ohio, is majoring in cultural anthropology with a minor in theater studies. She was among 30 undergraduate and graduate students who submitted speeches for the committee's consideration.
Sherman has been active at Duke -- working with refugee families in Durham, Nepal and Jordan through a Bass Connections team and the Kenan Institute for Ethics, where she co-directs the Mastery Tutoring Program. She also has been a research assistant, an academic tutor for Duke Athletics and a community volunteer.
Graduation is traditionally a time to commemorate student accomplishments, Sherman said. "We celebrate the moments we got to stand up and defend our research, the moments we showed our command of new languages and complex theories, when we moved an audience from the stage, played the game of a lifetime or fiercely debated our country's policies."
Although these moments are special, they may be less important in the long run than the parallel education students receive during their everyday lives at Duke. "Our greatest gifts are not the things that make us extraordinary," said Sherman, who plans to share some of the moments that shaped her own college experience. "Our greatest gifts are the things that make us human."
She was chosen by a committee composed of students, faculty and administrators. The committee looks for a speaker whose words can resonate with everyone in the audience, said committee head Sterly Wilder, Trinity '83 and associate vice president for alumni affairs.
"Our committee members read everyone's speeches and invited several finalists to deliver theirs in person," Wilder said. "When Jenny spoke, you could just feel the room go silent. She spoke from her heart, with incredible power, and made all of us think in a new way what the Duke experience is all about. We had an extraordinary group of speeches to choose from this year, but hers stood out."