Catching Duke Spirit at Blue Devil Days
Admissions staff efforts culminate during admitted student events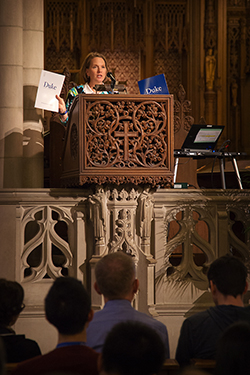 One by one, they arrived single file, clutching backpacks, pillows and sleeping bags.
As each high school senior walked up the sidewalk to East Campus' Gilbert-Addoms Residence Hall, admissions officer Elysia Pan welcomed them and directed them to one of a few dozen current Duke students, each holding the name of the visiting senior.
"Come on this way," Pan shouted. "Last stop, then you get to drop your bags and hang out with your host."
This month marked the annual return of Blue Devil Days, a series of two-day programs for admitted high school students that highlight the academic, philanthropic and cultural sides of Duke and its campus.
For dozens of faculty and staff and more than 100 student volunteers, Blue Devil Days acts as the culmination of a year's worth of work to entice high school students to come to Duke.
It's also the most important recruiting event for the Office of Undergraduate Admissions. About 65 percent of admitted students who come to Blue Devil Days enroll at Duke. Each session brings thousands of high school seniors and family members.
April 21 and 22 are the final sessions of 2014's Blue Devil Days, but planning and strategy started last May when admissions officers began their recruitment cycle. From May to October, officers schedule information sessions and travel to meet with potential members of the class of 2018.
"We're competing with Harvard, Yale, Princeton and Stanford to win the attention of students," said Kathy Phillips, associate director for Undergraduate Admissions. "We look at everything that may affect students' desire to come to Duke and work to maximize our efforts to highlight that."
For admissions officers, that means offering a personal touch to their work. After late fall and early winter are spent reading applications, February and March become crunch time for recruitment.
Solomon Enos, senior assistant director with admissions who recruits students from Texas and Hawaii, prepared personalized letters to 180 admitted students this year, detailing why he believed Duke would is a good fit for them.
"A lot of students may not have visited campus before, but they'll see Duke in pictures and on our website, so we want to encourage them to come here," Enos said. "Blue Devil Days gives them a chance to see the spirit of the campus and personalize the process."
Undergraduate Admissions staff talk about experiences with Blue Devil Days.
While the recruitment of potential students takes place, Susan Waters, senior assistant director for Admissions, is in charge of coordinating logistics for Blue Devil Days. That means phone calls and emails to colleagues in Theater Operations to book spaces, Duke Dining to set up dining opportunities and the Office of Information Technology to prepare special, temporary DukeCards for each Blue Devil Days attendee to use for access to libraries or buy a meal at a campus eatery.
"People who come here are shopping Duke to the many other great options they have," she said. "To make this work well, we can't do it alone."
Perhaps nobody knows that better than Oscar Dantzler, a housekeeper at Duke Chapel. As campus is flooded with visitors for Blue Devil Days, he said many families will make the Chapel their first stop - and he's waiting for them.
"If you're going to work around the public, you've got to be able to meet and greet people and answer any questions," said Dantzler, who notes he often shares insight on dining options, campus safety and how students can use Duke buses to get around. "I work on the parents first, because they're usually more nervous, and by the time I show them the Chapel, they'll have their son or daughter coming to Duke."