Crews Work to Duplicate James B. Duke Statue
A replica of the statue by Duke Chapel will be created for Duke Endowment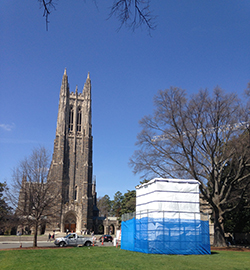 There's no need to double take when walking across the West Campus quad this week. A large, rectangular tarp in front of Duke Chapel isn't hiding any secrets - it's part of an effort to replicate the famous James B. Duke statue.
Workers are forming a rubber mold of the 79-year old statue for the Duke Endowment, which will place a replica of the statue at their new office building in Charlotte when it opens in late August.
James B. Duke was the founder of Duke University and creator of the Duke Endowment, which provides grant funding for advancement in higher education, health care, childcare and more in the Carolinas.
The molding and the tarp covering it will stay up through the end of this week. The final result of the process will be finished in August and delivered to Charlotte.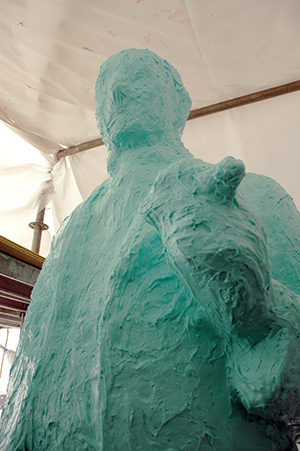 The James B. Duke statue covered in a rubber molding. Photo courtesy of Ray Walker.
"The Duke Endowment commissioned the statue in the 1934 as a gift to Duke University and as a tribute to the University's and Endowment's founder," said Charlie Lucas, an Endowment Trustee. "Our trustees thought it was appropriate to have the same statue grace the grounds of our new home in Charlotte as a reminder of Mr. Duke's vision for the Endowment and the Carolinas."
In order to replicate the statue, Carolina Bronze Statue will take the rubber molding that is fit around the 8-feet tall statue and fill it with wax.
After draining the wax from the mold, an outline of wax up to a quarter-inch thick remains, which is detailed to match the linings and intricacies of the original.
The wax statue will then be broken into seven or eight pieces, each for sections of the statue like legs, torso, arms and head. Those pieces are then molded with a material that can handle the heat and weight of liquid bronze.
Once all the separate bronze pieces of the statue are cooled and ready, they'll be welded together using a process that heats the metal up to 18,000 degrees to fuse each section. Additional grinding and hand chiseling takes place at the end to clean any seams and finalize the replication.