New Bike Shelter a First for Duke
Shelter with fix-it station outside Sanford School offers covered racks for bicyclists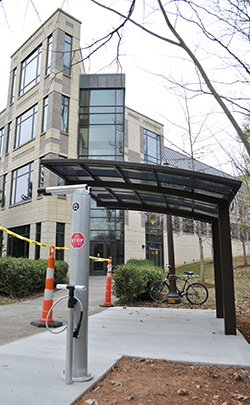 It all started with a soggy bicycle seat.
Master of public policy student Jeff Bartelli would travel an average of 50 miles per week on his bike, heading from downtown Durham to his Duke classes, sometimes pedaling in rain and snow.
He submitted a written proposal for a bike shelter outside of the Sanford Building and Rubenstein Hall. The structure, which has room for about 20 bikes, would be a first for Duke since only a few existing bike racks are under overhangs or in parking decks.
Now, nearly two years later, the new shelter is nearing completion. Behind Rubenstein Hall and adjacent to Towerview Road, the concrete is set. A bike fix-it station is in place. The dark-brown aluminum structure is installed.
All that's left are bike racks, which will be installed this week, depending on weather.
"It feels really good and it's really gratifying to know that this process went through," said Bartelli, who graduated in May and is now a management consultant for Booz Allen Hamilton in Washington D.C. "It's good to know there's people in the Sanford School that's kept this dream alive for me."
Bartelli hopes the completed shelter serves as an example of what students can build from the ground, up. He's even thinking of a weekend trip to Duke this summer to see the structure for himself.
Campus landscape architect Mark Hough said the shelter, which cost about $18,000, could eventually serve as a model for other spots around campus. The "parachute" design of the structure was picked to blend in with the architecture of both public policy buildings.
"We want to see what it looks like and how it functions and just how it works before we commit to putting them other places on campus," Hough said.
Determining cost and design became a group effort between the Office of the University Architect, Facilities Management, Duke Parking and Transportation Services, Sustainable Duke, and the Sanford School of Public Policy.
The shelter supplements the 56 bike spaces that already exist between two racks outside the Sanford Building and Rubenstein Hall.
As part of the shelter, the Dero Fixit station provides a place for cyclists to fix a flat, adjust brakes or make general repairs. The station includes an air pump and tools such as mini screwdrivers and wrenches that hang from stainless steel cables.
David Arrington, associate dean of finance and administration with the Sanford School of Public Policy, said the new shelter fits into Duke's mission to reduce its carbon footprint and reduce the number of car commuters. About 1,050 university employees commute by bike.
"It's supporting the university's broader efforts to bring sustainability closer to home, to the campus, and it's just one way that we're promoting alternative transportation," Arrington said. "... It's been exciting for those of us who've been close to the action to see this project now coming closer to fruition so that we can say yes, this is finally a reality, and we can tell Jeff, 'Come back and see the fruits of your brainstorm way back when.'"