From the Archives: Looking Back with Duke Basketball
A historical look at college basketball's craziest month
As the winter thaws across campus and spring starts to take hold, this month is a favorite time of year for Duke's Cameron Crazies and Blue Devil fans scattered across the country.
It's when everyone gets a little "mad."
Mid-March is when men's and women's basketball teams punch their ticket for the NCAA basketball tournament, ending with the Final Four in early April. While we'll have to wait to find out the fate of Duke's teams, Working@Duke and the University Archives decided to look back at some basketball history just in time for March Madness.
A Championship Bracket
Terry Sanford oversaw many aspects of Duke's fundraising and educational mission as president from 1969 to 1985, but basketball fans may know him as the man who helped hire Mike Krzyzewski, who has led Duke to four national championships.
After Sanford left Duke, he represented North Carolina as a U.S. Senator from 1986 to 1993, but didn't forget his 16 years on campus. On his 1992 bracket, "Senator Sanford" correctly picked three of the four Final Four teams, including Duke's victory over University of Michigan in the championship game. Click here for his full-size bracket.
Even though he only earned 95 points out of a possible 132 - it's not known who won his friendly bracket challenge - Sanford benefited from his hiring of Krzyzewski, who won the second of back-to-back titles.
Duke Basketball History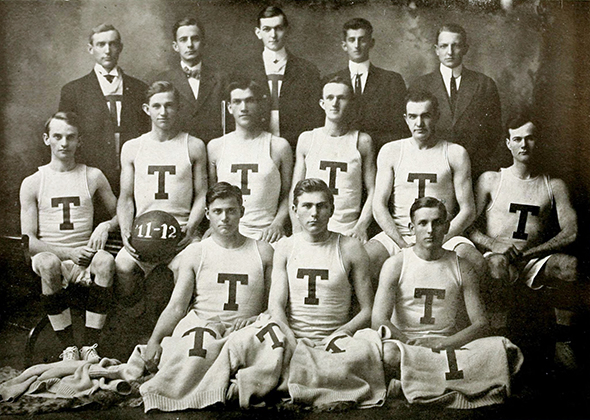 Before they were national champions and before they were even known as Duke, the men's basketball team on campus played for Trinity College, which became Duke University in 1924. This photo shows the 1911-12 team, during the seventh year of the basketball program's existence. The team went 6-1 that season, with its only blemish coming in its final game, a 26-13 loss to North Carolina State University.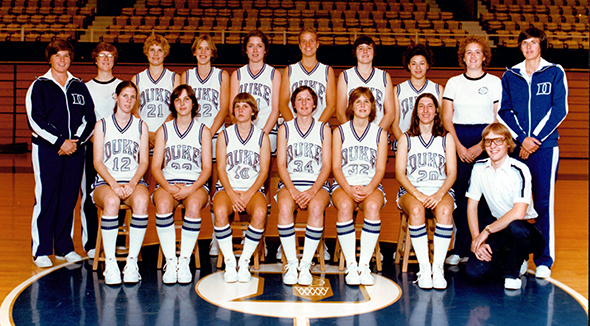 The Duke women's basketball team doesn't have as long of a history as the men's squad - the Blue Devils first began play in 1975 - but this picture captures the 1978-79 team that finished 11-11. Assistant coach Jacki Silar, on the far right, still works at Duke today. Silar was Duke's first senior woman administrator in 1995 and currently serves as senior associate director of Athletics.