From a Zoo of Entries, Terrier Wins Pet Photo Contest
More than 1,000 votes cast across 39 pet photos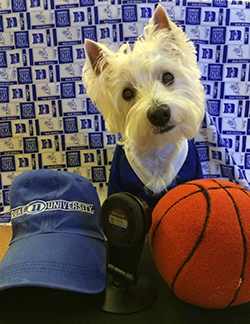 Photos of Winter Storm Pax filled up social media feeds last week, but another series of pictures warmed hearts.
Duke community members, their friends and families cast 1,175 votes in Working@Duke's first pet photo contest to find Duke's cutest family "mascot." The winner was Winston, a West Highland white terrier owned by Cindy Cheng, a graduate student in Duke's Biomedical Engineering Department. Winston compiled 191 votes, tallied by the number of likes his picture received on Facebook. Winston beat 38 other submissions from students and employees.
In the winning photo, Winston is holding a press conference to announce his decision to play basketball at Duke. Cheng fashioned a backdrop from Duke-themed fabric and added a basketball and Duke hat for good measure.
"He really likes baseball caps so the toughest part was to get him not to play with it and run away," Cheng said. "I laid on the floor with peanut butter on my finger and got him to stay and look at it so he wouldn't be interested in the hat during the picture."
In addition to Winston winning the popular vote, two other pets were selected for judges' prizes. Susan Story-Hill, a staff specialist in Biomedical Engineering, had a photo of her pot-bellied pig, Peanut, picked for "cutest picture."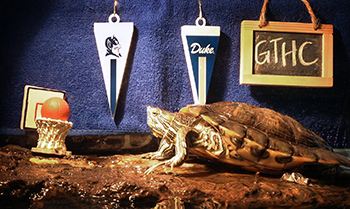 "Giffy" the turtle
The judges' pick for best Duke-themed photo went to Nikki Baskin, senior assistant director at the Office of Undergraduate Admissions. She took a photo of Reynolds Griffith "Giffy" Von Canon, her yellow-bellied slider turtle, as he posted in "Cameron Indoor Aquarium" to take on the "Chapel Hill Reptilians." Giffy is named after the meeting and performance spaces in the Bryan Center.
"He likes goldfish crackers, so I put one on a floating dock and he kept looking at it," Basking said. "I used Christmas ornaments to decorate his aquarium and give it a basketball theme."
The three winners will receive pet-related prizes from Duke Stores.
In addition to Winston, Giffy and Peanut, Working@Duke judges also picked two other pets as honorable mention favorites: Kodiac, a dog dressed in a Duke cape, and the hamster Rasheed Sulaimon.
Want to see all the contestants? Relieve all the cuteness with Working@Duke's photo album of submissions.