Make Resolutions a Reality with Duke Programs
Employees can get help reaching 2014 health and professional goals
As 2014 unfurls, one thing is clear - people are looking for a change.
New Year's resolutions offer internal motivation to lose weight, save money, learn a new skill and more. Self-improvement is all the rage as the calendar starts anew, but a University of Scranton study found only 8 percent of people are able to follow through on resolutions.
To help Duke faculty and staff reach their goals, Working@Duke has taken the top-five New Year's resolutions from last year and we'll show you how Duke programs and offerings will mean success in 2014.
Starting a New Diet or Exercise Program
Whether you're trying to maintain weight or just get in better shape, there are free ways to get help at Duke.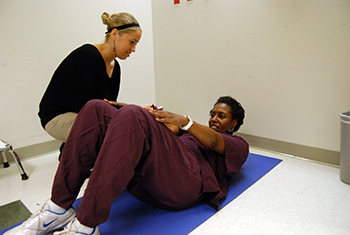 Employees can receive free fitness and nutrition consultations from LIVE FOR LIFE, Duke's employee wellness program. Photo by Bryan Roth.
Starting Jan. 13, Duke's annual employee wellness competition returns. The Get Moving Challenge, which is open to faculty and staff, is a 10-week competition filled with helpful tips and tricks to create a healthy diet and start an exercise routine. Participants can even earn free entry into a Duke 5K in March.
Other free programs include Duke's Run/Walk Club, fitness and nutrition consultations and Take the Stairs, which provides prizes for using staircases instead of the elevator.
"The primary challenge with weight loss is that it requires a lot of motivation," said Gary Bennett, professor of psychology, global health and medicine and director of the Duke Obesity Prevention Program. "Motivation to perform behavioral strategies that result in weight loss like tracking food consumption, becoming physically active, eating smaller portions, setting goals and getting back on track when you slip. I recommend that people not resolve to lose weight, but resolve to do one or more of these behavioral strategies consistently for at least three months."
Visit LIVE FOR LIFE, Duke's employee wellness program, to learn more about programs to get on track.
Learn a New Skill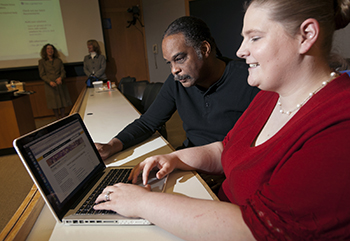 Christine Vucinich, training coordinator for Duke's Office of Information Technology, looks over the lynda.com website with Alonzo Felder, an IT analyst at Duke. Photo by Duke Photography.
Duke's Learning and Organization Development provides a wide variety of classes that focus on aspects of writing, technology and supervisory skills. Also, Lynda.com provides an almost endless library of online videos to help professionals learn something new.
With access to lyndaCampus, Duke employees have free access to 87,000 video tutorials on hundreds of technology topics and soft skills such as professional networking.
New courses are added every week. Popular courses taken at Duke have included training for Excel, PhotoShop, PowerPoint and HTML coding.
Smoke Out Tobacco Use
Duke offers free support for quitting tobacco. Photo by Duke Photography.
Studies show most smokers aren't able to quit tobacco on their first try, but for those ready to give up the habit, Duke offers a year-long coaching program that helps faculty and staff quit and rewards them for success.
The Steps to Health tobacco cessation program provides a quit coach and access to discounted stop-smoking aids like CHANTIX. Discounted nicotine replacement therapy is also available.
Learn how to get personalized help quitting tobacco on the LIVE FOR LIFE website.
Save More Money
Setting aside more money is consistently a top New Year's resolution.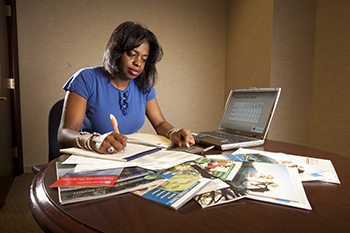 In addition to research at home, Duke employees can schedule one-on-one sessions with retirement counselors to determine how to best save. Photo by Duke Photography.
Duke employees can take small steps, like adjusting their direct deposit to automatically place money into a savings account. Faculty and staff can also establish an account with the Duke Credit Union, which can take a predetermined amount from each paycheck and place it into a savings account with the bank for Duke community members.
Duke hosts dozens of online presentations that teach about saving, investment and smart spending habits.
Faculty and staff can also set up one-on-one counseling sessions with retirement representatives.
"Each year I evaluate my income and see if I can make additional contributions," said Ruby Thompkins, administrative assistant with Duke Police. "I look at my bills and see where I can cut. It may be a small amount, but if I can make an additional contribution, I do."
Read More
With more than 6 million books spread across 10 libraries, it's easy to pick up the latest James Patterson thriller or William Shakespeare classic. With a DukeCard in-hand, any faculty or staff member can peruse the 60 miles of shelving in Duke Libraries to find the right book.
If you're feeling tech savvy, Duke Libraries also has 50 Kindles, Nooks and other e-readers for loan. Start reserving today at the Duke Libraries website.