Tips for Holiday Health and Safety
How to keep your holidays safe from fire, online fraud, food-borne illness and more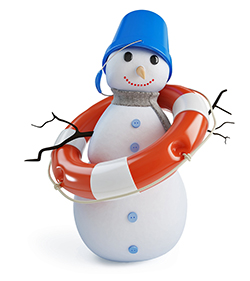 The subject line of the email read, "Your Amazon.com order of "Omron WYH-627R Fat Loss." has shipped." 
Read More
The message invited the recipient to click a link and track the order.
The link, however, did not return to Amazon but sent the user to a fraudulent website collecting personal information.  
"Duke's spam filters catch many phishing attempts like this," said Richard Biever, chief information security officer at Duke. "But no spam filter is perfect, so we encourage folks to be vigilant, particularly around the holiday season when more people are purchasing items online."
Consider these simple tips from Duke experts to keep your winter holiday season healthy and merry.
Keep potluck food fresh. Food is at the center of many holiday celebrations, but certain foods left out for nibbling can lead to food-borne illness. "To avoid spoiling, food should never be left out at room temperature for more than two hours," said Kara Mitchell, a registered dietitian and wellness manager for Duke Health and Fitness Center. She suggested providing a list of ingredients for treats whenever possible. "There is a growing prevalence of food allergies and dietary restrictions," Mitchell said. "Having clearly listed ingredients makes it easier for everyone to make wise choices about what is safe for them to eat."
Decorate your office safely. To lower the risk of fire, Duke's Fire and Safety Policy requires all decorations at Duke to be non-combustible and all electrical equipment to have a United Laboratories (UL) safety certification. Live trees or greenery should be sprayed with fire retardant. The biggest fire risk during the holidays is from electrical lights that are left unattended said Fred Knipper, head of Duke's Fire and Safety division in the Occupational and Environmental Safety Office. "If you choose to decorate your office with holiday lights, please designate one person to ensure that they are not near flammable items and that they are turned off each night," he said. 
Stow your valuables. According to Eric Hester, crime prevention officer with the Duke University Police Department, most campus crime involves property theft. Hester suggested that Duke community members secure valuables in a locked drawer and stow property like electronics and shopping bags out of plain view in locked, parked cars. "Criminals like easy targets," said Eric Hester, crime prevention officer for the Duke University Police Department. "The harder it is to get to your valuables, the riskier it is for the thief to attempt to steal them."
Engrave electronics. If an item is stolen, the chances of recovering property are higher if the item has your name permanently attached. Duke Police offers a free engraving service to faculty, staff and students for bicycles, laptops, mobile phones and other items with serial numbers that can be used for identification purposes. "Having your Duke unique ID or driver's license engraved on a bike or laptop can be the solvability factor if someone steals the item because it helps us prove ownership," Hester said. Call (919) 681-5609 for more information about the engraving service.
Don't get phished: Biever, chief information security officer at Duke, said the end of year is high season for phishing emails that appear to come from stores or shipping companies.  He recommended hovering over email links before clicking to discover if the link is taking you to an unexpected site. "The few extra seconds this takes can keep you from inadvertently downloading malware or providing your information to scammers," he said.