Ida Stephens Owens at the Bouchet Society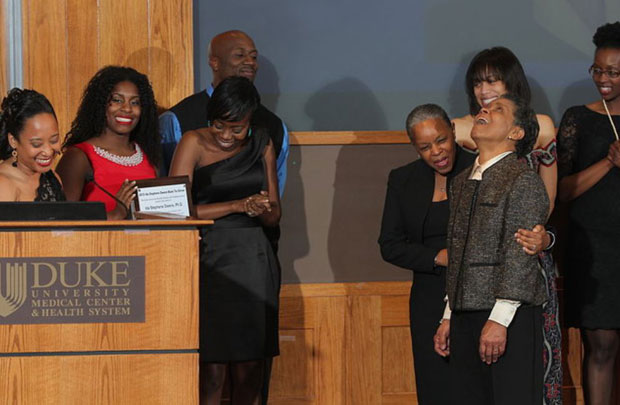 Generations of Graduate School scholars connected when Ida Stephens Owens, the first African-American woman to earn the Ph.D. at Duke, spoke at the annual Edward Alexander Bouchet Black Tie Dinner on Dec. 7.
The inaugural recipient of the Graduate School Distinguished Alumni Award, Owens received her Ph.D. is physiology. In 1975, as a member of the Laboratory of Developmental Pharmacology in the National Institute of Child Health and Human Development (NICHD), Owens initiated a research program that is now recognized for its studies on the genetics of human diseases.  In 1981, this research program was extended and made into a permanent Section on Drug Biotransformation and Owens was named chief.
She spoke to the Graduate School students who are members of the Bouchet Society, whose goal is to "further strengthen underrepresented minority graduate students in achieving their career goals in science research and education." Edward Alexander Bouchet was the first African-American doctoral recipient in the United States (in physics from Yale University in 1876).
Yale University and Howard University initiated the national charter for the Bouchet Society, with Duke and other universities building chapters in recent years.  At Duke, the society has been a significant source of support for students of color in the sciences.  Bouchet members also provide outreach in the Durham community to youths who are interested in pursuing the STEM fields.
This year's dinner is society's second, and the members have decided to name it "The Ida Stephens Owens Black Tie Dinner." Duke alumnus Chiatogu Onyewu, who received the MD/PhD in pharmacology in 2007 and who served as president of Duke Bouchet when she was a student, also was honored at the dinner.
Below: Ida Stephens Owens speaks to the Bouchet Society.  Bottom, members of the society pose for a photo.  Photos courtesy Roketa Sloan.