Duke in Pics: Police Talk Campus Safety
'Tips n' Treats' sessions with police and students held this week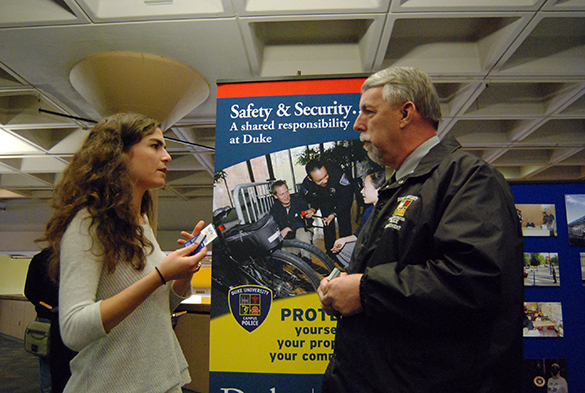 Students and employees got sweet on safety this week, as members of the Duke University Police Department held their biannual "Tips n' Treats" events across East, Central and West campuses.
Above, Dave Williams, Duke Police crime prevention manager, chats with senior Lauren Paylor about campus safety. Paylor noted that after a string of crime incidents in the late summer, she was happy with safety enhancements made in recent months, including seeing officers patrolling around campus.
"Since we haven't had any events lately, I feel like Duke Police really stepped up," she said. "I don't feel like my safety is a concern at all."
During the three Tips n' Treats events, Williams and Eric Hester, crime prevention officer with Duke Police, spoke with Duke community members about safety tips and answered questions about safety on campus. They also handed out candy and cookies provided by Duke Dining and The Food Factory. About 800 wallet cards featuring safety tips and contact information for the department were also distributed.
Find tips on personal and property safety on the Duke Police website.