Area Visitors Can Find Duke in Raleigh, Too
University groups set up display cases in capitol's convention center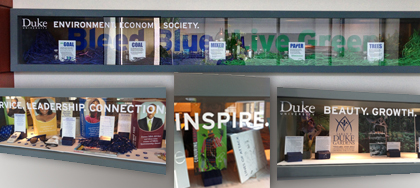 While Duke's campus and research areas take up thousands of acres in Durham, the university is taking over a little bit of space in Raleigh.
In September, Duke took up residence in a dozen special display cases at the Raleigh Convention Center in the capitol's downtown. The 10-feet long cases were filled with a variety of items and informational material to represent a wide cross-section of Duke departments and initiatives, from Sustainable Duke to Duke Athletics, Nasher Museum of Art and more.
The cases are spread throughout the convention center's main floor, attached to conference rooms. They're in an ideal place to catch the attention of visitors and any foot traffic passing through the building, said Denise Haviland, executive director of the Office of Marketing and Strategic Communications.
"This was an incredible opportunity to provide a glimpse into the many exciting facets of Duke to the thousands of visitors to the convention center from around the state, the U.S. and the world," Haviland said. "It was also a chance to show a Duke presence in an area that may not be as familiar with all that Duke does for the region."
Duke is the second university to be featured at the Raleigh Convention Center since the building opened in 2008. The first was North Carolina State University. Duke's cases will remain at the center for as long as 18 months.
In all, seven groups are representing Duke:
Duke Athletics
Global Education Office
Duke Gardens
Sustainable Duke
Duke Lemur Center
Alumni Affairs
Nasher Museum of Art
"With Duke Gardens approaching its 75th anniversary next spring, we saw this as an ideal opportunity to display the world-class horticultural design of the Gardens and to show how impressively it has grown over the decades," said Orla Swift, director of marketing and communications at Sarah P. Duke Gardens.  She created the display using photos by Duke Gardens volunteers and brainstorming ideas with Gardens' volunteer librarian, Nan Len."We're grateful to share Duke's many attributes with a wider audience from around the state and beyond," Swift said.The Raleigh Convention Center, located at 500 South Salisbury St. in downtown Raleigh, is open to the public weekdays from 8:30 a.m. to 5:15 p.m. Duke's display cases are available for viewing during regular business hours.