Fossils, Ancient Texts and ... Moss?
Unique Duke collections you may not know
Blue Devil fans may know about Duke's collection of 13 national championship trophies and sustainably-minded employees may recognize five plaques naming Duke a "Tree Campus USA," but did you know about the thousands of fossils Duke keeps in a building on Broad Street?
For all the recognizable awards on campus, there are plenty of other artifacts to be found. Here are three unique collections kept on Duke's campus:
Get Green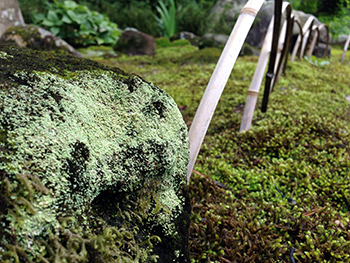 Nature takes its course at the Kathleen Smith Moss Garden at Sarah P. Duke Gardens. Photo by Bryan Roth.
Nestled in a corner of Sarah P. Duke Gardens, uphill from the Culberson Asiatic Arboretum's pond, is the Kathleen Smith Moss Garden, where about 30 varieties of moss grow untouched on the ground, rocks and organic debris among the surrounding plant life. About 400 kinds of moss exist in North Carolina, but Paul Jones, curator of the arboretum, said he focused on local species to include in the moss garden. Some varieties include Anomodon attenuatus on rocks, Leucobryum albidum on wood and Atrichum angustatum on soil. The mosses used in the garden were collected from various locations in Durham and Orange counties.
"Generally, mosses have been considered undesirable, but I think that's because they're underappreciated and their best use in the landscape hasn't been demonstrated," Jones said. "Mosses are perfect for a quiet, shady, contemplative space."
Visitors to the moss garden are provided a place to sit on a wooden bench which is set far enough away from Duke Gardens' walking paths to enjoy the quiet of the wooded area. To find the garden, enter the Asiatic Arboretum from the Roney Fountain in the Mary Duke Biddle Rose Garden and follow the path about 100 yards. Stairs leading up to the garden are on the right.
Bare Bones
It's easy to walk on the historic wild side. 
Hidden inside a small building on Broad Street is the Division of Fossil Primates, a department associated with the Duke Lemur Center that houses more than 24,000 fossils from some of the earliest primates and animals from Egypt, Madagascar, India and Wyoming.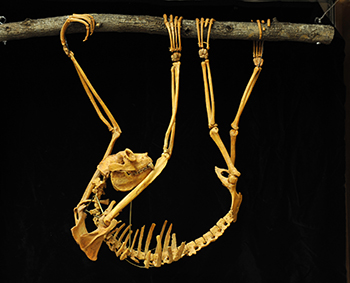 This skelenton of a Palaeopropithecus, an extinct sloth lemur, is housed at Duke's Division of Fossil Primates. Photo courtesy of Division of Fossil Primates.
The division's novelty comes from being one of the premiere collections of its kind in the world, which includes lemur skeletons and fossils from as far back as nearly 50 million years ago.
"I simply don't know how many other people have access to this kind of material," said Gregg Gunnell, director of the Division of Fossil Primates. "Nobody outside of Egypt or Madagascar has what we have."
Gunnell said he hopes to eventually digitize 3D images of fossils for online viewing. In the meantime, Duke students and employees can visit the Division of Fossil Primates at its office at 1013 Broad St. by appointment for free tours and discussions about fossils. For more information, visit the division's website or call (919) 416-8420.
Transcribing History
The ancient world also comes to life with a collection of about 1,500 centuries-old pieces of papyrus, an ancient material made from plant used for writing. In addition to being available to view at the David M. Rubenstein Rare Book and Manuscript Library, documents can also be seen online.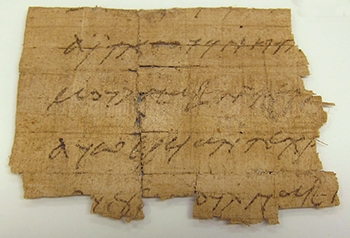 Duke community members have access to about 1,500 pieces of papyrus at Duke, both in-person and online. Photo by Bryan Roth.
Joshua Sosin, associate professor of classical studies and history at Duke, said that even though there are many papyrus collections all over the world, Duke's is unique because it's readily available online. In 1996, Duke was among the first universities to digitize its papyri collection and make it freely available online. Through its site at papyri.info, Duke allows crowd-sourced editing of texts by anyone in the service of scholarly knowledge.
"It's in the spirit of an open and collegial management of knowledge and creating tools that allow people from all over to participate," Sosin said. "Anyone can view, transcribe, translate or comment."
Among some of the pieces Duke community members can inspect are a fragment of an ancient Greek comedy from around 300 B.C., a 6th century A.D. marriage agreement and an Egyptian petition concerning breaking and entering in 137 B.C.
For more information, visit the Duke Papyrus Archive website.