Guttentag Appointed to New Term as Dean of Undergraduate Admissions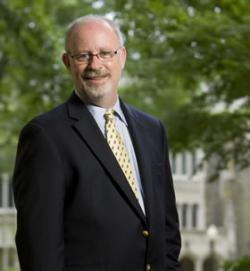 Christoph Guttentag, who has overseen the decisions of more than 200,000 student applicants in 25 years in admissions, has been reappointed to another five-year term as dean of undergraduate admissions, said Provost Peter Lange.
The announcement followed a regular review of Guttentag's performance by a committee of faculty and administrators chaired by Steve Nowicki, dean of undergraduate education.
"Christoph has provided outstanding and innovative leadership for Duke admissions for well over a decade," Lange said. "This review highlighted the extent to which he has been able to lead his excellent staff through a period of major growth in the number and quality of applications to Duke, very substantially increasing the quality and diversity of our undergraduate student body.
"The results have been appreciated by our faculty, and by our students and now been fully recognized by the review process. We are extremely pleased to have Dean Guttentag leading our undergraduate admissions for years to come."
Guttentag came to Duke as director of undergraduate admissions in 1992.  He was named dean of undergraduate admissions in 2006. 
In the 20 years since Guttentag has arrived at Duke, the admissions rate has dropped to 12 percent, even as the student body has become more diverse and stronger academically.  The presence of students nationwide and worldwide has increased dramatically, and the percentage of students of color has increased to 47 percent of the entering class. 
In a 2009 live webcast with Duke student Taylor Clarke, Guttentag discussed the admissions process and changes in higher education and the student body.
He has been an active participant in both regional and national organizations of admissions professionals, and most recently joined the Higher Education Advisory Committee for Cambridge International Examinations as well as the College Board's Guidance and Admissions Assembly Council.
A native of the San Francisco Bay Area, Christoph Guttentag received his undergraduate education at the University of California at Santa Barbara.  He was a Regents Scholar and graduated summa cum laude in 1976, with majors in Philosophy and Music History.