Leveling the Playing Field
Duke's Disability Office connects employees, students, visitors with services and tools
Monica Jakubowski was mulling over lunch choices as she drove up North Carolina Highway 751 to meet her husband at Streets at Southpoint. As she crossed an intersection, a car ran a red light and slammed into the driver's side of her Dodge Durango.
Jakubowski's head slammed against the side of the car, knocking her unconscious. When she recovered seconds later, she smelled smoke. Disoriented and confused, she crawled out of the car and lay down in grass beside the road.
"My colleagues say I called from the emergency room, but I have no memory of that," said Jakubowski, an advanced practice nurse practitioner at Duke's Intensive Care Nursery.
A doctor diagnosed a severe concussion and told her, "go home to a dark room. Your brain needs quiet to recover."
Two years after that 2011 crash, too much noise still gives Jakubowski headaches and dyslexia-like symptoms. But with help from her colleagues and Duke's Disability Management System, she still works at Duke.
Last year, about 300 people with disabilities - including Jakubowski - contacted Duke's Disability Office to request assistance to visit, work or study at Duke. The office serves as a clearinghouse on disability-related information and services to ensure people with disabilities have full access to Duke's resources. The office connects people with mobility issues to accessible transportation, provides tools and support for students and staff with low vision or other disabilities and works to appropriately adjust a workplace to create a culture of inclusivity.
"Our commitment to creating a welcoming and inclusive environment for those with disabilities is part of Duke's belief system," said Kyle Cavanaugh, vice president for administration. "People all across Duke are trying to eliminate inhibitors to success, whether that success is in learning, working or visiting Duke."
Leveling the Playing Field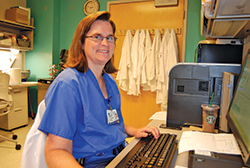 Monica Jakubowski, an advanced practice nurse practitioner at Duke Hospital's Intensive Care Nursery, uses a quiet room to complete patient notes. Photo by Marsha A. Green.
Four months after the car accident, Jakubowski returned to caring for babies in the 67-bed intensive care nursery. At first, the beeps of heart monitors and cascades of conversations overwhelmed her.
"At times I couldn't listen to a physician and read a chart at the same time," she said. "My brain wouldn't take it all in."
But her team leaders had a plan. They allowed her to retreat to a quieter room to write notes. They temporarily reduced her workload. They gave her extra weekend shifts rather than night shifts.
"We often have to adjust for colleagues on crutches or who are pregnant," said team leader Martha Bordeaux. "For Monica, it was the same, only her difficulty wasn't as obvious."
Later, when doctors confirmed that Jakubowski had a brain injury, she and her manager met with the Disability Office to write a formal disability plan. They described Jakubowski's limitations and accommodations and decided when the department would re-evaluate the plan.
"People want the security of knowing that no one can arbitrarily change the rules," said Leigh Fickling, director of Duke's Disability Management System. "A disability plan protects the individual and the unit by clarifying expectations."
Requests for assistance from Duke's Disability Office have risen from 73 in 2010 to 344 in 2012. This is in part because Congress amended the Americans with Disabilities Act (ADA) to expand the definition of disability in 2009. Now, people with health or mental conditions that hamper daily acts such as eating, sleeping or working may be entitled to assistance under ADA regulations.
"The expanded definition of disability has significantly increased our work because people with cancer and epilepsy or other conditions may now qualify for assistance," Fickling said. "We are also doing a better job of networking with people at Duke to help level the playing field for anyone here with a disability."
Resources to Thrive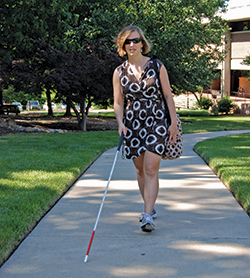 Elizabeth Troutman, a Duke graduate student, is pursuing dual degrees in law and public policy from the University of North Carolina at Chapel Hill and Duke's Sanford School of Public Policy. Photo by Marsha A. Green.
Elizabeth Troutman stepped off a van at the Duke Chapel circle.
"Over here, Elizabeth!" shouted Wayne Taylor, who drives the Duke disability van.
Troutman walked toward Taylor's voice, sweeping a white cane in front of her. She has been blind since she was a teenager, having only two degrees of vision in her right eye.
The disability van, operated by Duke Parking and Transportation Services, provides door to door service on campus for riders registered with the Disability Office. Troutman rides the van daily to-and-from the Sanford School of Public Policy, where she is completing a master's degree while studying law at the University of North Carolina at Chapel Hill.
The Disability Office works with Duke employees and about 250 graduate and undergraduate students to coordinate resources they need to thrive at Duke. The office provides accessible student housing and ensures students and faculty with mobility issues have classes in accessible buildings. They also work with faculty to accommodate student needs such as having someone take class notes for a paralyzed student.
For Troutman, the Disability Office has alerted professors to her low vision and helped obtain textbooks in machine-readable format so her computer can read them aloud to her. Two years ago, the Disability Office helped Sanford administrators select software for professors to scan newspapers clippings into machine-readable format for Troutman's studies.
"Years ago, blindness would have severely limited my choices," Troutman said. "It is wonderful how far we have moved the bar so that people with disabilities can play their full part in our society."
Eliminating Barriers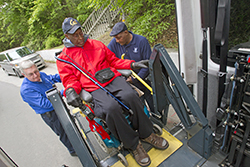 Duke disability van drivers Wayne Taylor, left, and Terrence (Tiger) Davis, right, help Benjamin Ward into the van. Photo by Duke University Photography.
Benjamin Ward pressed the automatic door opener, pushed the joystick on his motorized wheelchair and rolled through the doors of Edens Quad, where he has lived as faculty-in-residence since 1990.
A three-year fight with colon cancer has stolen much of Ward's strength but not his passion for being with students. He uses a wheelchair to conserve energy, teaches philosophy and Arabic and attends men's home soccer games and track meets as a faculty sponsor. He also mentors Duke's Pitchforks, the male student a cappella choral group he started in 1979, and invites students to Durham Bulls games.
"Keeping up with my students is a tonic for me," said Ward, a professor of philosophy.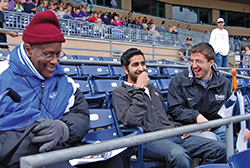 Benjamin Ward enjoys a Durham Bulls game with Duke students Neil Krishnan, center, and Christopher Tweed-Kent. Photo by Marsha A. Green.
Each semester, the Disability Office ensures Ward's philosophy seminars are located close to his apartment. The office also meets with Facilities to ensure that Duke's priority snow and ice removal plan includes Edens Quad's accessible entryway. This review of class and work location is done for every person with a mobility issue registered with the Disability Office.
To help guide its work, the office keeps a 7-foot-long map on a conference room wall. The map shows accessible paths, parking and building entrances and color-coded buildings: blue for accessible buildings, pink for buildings not yet accessible.
"When I came in 2001, this map was much more pink," said Dennis Novack, ADA facilities program director in Duke's Disability Office. "Now most of it is blue."
Novack reviews all construction documents for Duke to ensure they meet ADA requirements. He said this blush of blue reflects Duke's commitment to making Duke's campus more accessible. It also reflects a strong collaborative effort with University and Health System facility designers and project managers dealing with construction and renovation. In the past dozen years, Duke has built 17 ADA-compliant buildings and renovated 45 campus facilities to provide ramps, automatic door openers, wheelchair-accessible seating, and other improvements.
"Every major renovation we do - Page Auditorium, Baldwin Auditorium, Perkins Library, West Union - they all have a significant ADA component," said John Noonan, director of Facilities Management at Duke.
Ward will enjoy the renovations in the newly refurbished Baldwin Auditorium this fall. The accessible entrance will be near the main entrance instead of the rear and every level will feature accessible seating. 
Said Ward, "I've already selected my seat for the season."