Celebrate Fourth of July in Historical Style
Three archived materials to help you get patriotic this holiday
Want some red, white and blue inspiration this week?
As Duke community members and their families gather to celebrate Independence Day with parades, barbecues and fireworks, Working@Duke takes a look at some of the ways previous generations of Americans have celebrated the Fourth of July holiday.
With some help from the David M. Rubenstein Rare Book & Manuscript Library, the editorial staff found a few fun items that call back to July 4 holidays from years past.
Sing Along
If you're spending time with musically-inclined family and friends, Duke's archives offer a treasure trove of Fourth of July music, including a piece plainly titled, "Fourth of July Song." Published in the 1860s, the print of this song includes language about breaking away from England and patriotic refrains like "And, while o'er our heads our bright Banner shall fly/We'll hail, with devotion, the Fourth of July!"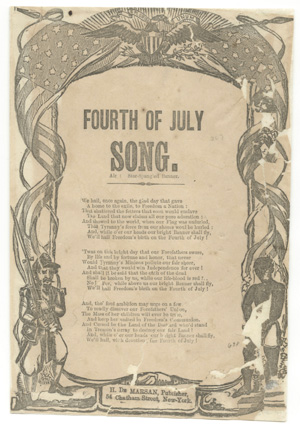 Fourth of July Song. Read it here.
Susan Dunn, professor of practice in the Department of Music, noted that song sheets like the "Fourth of July Song" are unique. At a time when people couldn't record music, they learned by hearing it. Song sheets were an easy way to share music to the public and would often have words sung to the tune of an established song. In the case of "Fourth of July Song," the words are sung to the tune of the Star-Spangled Banner.
"In this time period, this type of music served many functions," Dunn said. "It was for entertainment, to incite patriotic feelings, to celebrate victories or to memorialize battles. The camp songs from the Civil War passed into the memory of generations of Americans after that war. It might seem strange to us today, but soldiers carried guitars, banjos, harmonicas and other instruments with them to entertain themselves in their idle hours."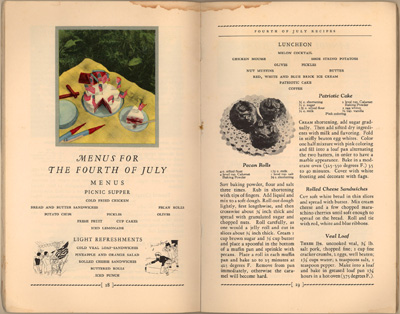 Fourth of July recipes. Read them here.
Get Cooking
Firing up the grill is a time-honored tradition during the American holiday, but if you want inspiration for the kitchen, check out this collection of recipes from the 1920s book "Selected Recipes and Menus for Parties, Holidays and Special Occasions."
While the book offers tips on entertaining and hosting guests, it also highlights Fourth of July recipes for "Patriotic Cake" - decorative flags optional - pecan rolls and the super-easy "Rolled Cheese Sandwiches.
Star-Spangled Banner Poem. Read it here.
Traditional Celebration
As fireworks begin to burst, the Star-Spangled Banner may come to mind. Americans young and old know the song, but you may not be familiar with the poem on which it's based.
The "Defense of Fort McHenry" was a poem written by Francis Scott Key that later became the "Star-Spangled Banner," America's national anthem. You can read the poem in its entirety on the Duke Libraries website.
The piece includes a mix of familiar and unfamiliar lines like " `Tis the star-spangled banner: oh, long may it wave/O'er the land of the free and the home of the brave."