From the Archives: Computer History at Duke
The machines starting showing up on campus in the 1950s
These days, it comes with the territory of having a workstation. Sit down and there it is - a computer.
But it wasn't too long ago that typewriters and word processors ruled the day at offices across the country and right here at Duke.
Documents from University Archives show that early iterations of computers like card punch machines to track data were on campus in 1958.
In 1964, IBM released its IBM System/360 mainframe computer system which became part of Duke's computer lab. John Jay Gergen, chair of Duke's Department in Mathematics at the time, organized delivery of the machines from IBM. Faculty and students from departments that included math, engineering, biology and social sciences used the computer.
Duke even played a role in the growth and discussions of computers, hosting the 1966 "Impact of Computers on Society" seminar with guest of honor Francis Bello, an associate editor of Scientific American magazine who spoke about the future of computers and research. Other topics included how computers would impact newspapers, social sciences and even employment. Juanita Kreps, who earned a doctorate at Duke in economics, acted as dean of the Women's College and later became U.S. Secretary of Commerce, led a talk about the potential of computers decreasing jobs in the country as machines took on roles humans could perform.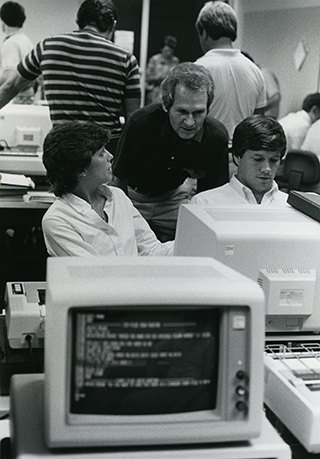 This undated photo shows one of the original "computer clusters" at Duke, which featured IBM machines. Photo courtesy of University Archives.
Throughout this time, Duke also partnered with North Carolina State University and the University of North Carolina-Chapel Hill to create the Triangle Universities Computation Center, a nonprofit organization formed in 1965 to provide information processing facilities for these universities and for other educational institutions in North Carolina.
Computers for individual faculty and staff began to appear in the mid-80s when the IBM Personal Computer showed up.
"It was scary because I hadn't seen anything like it in person," said Harriett Crawford, administrative assistant to Jim Roberts, executive vice provost for Finance and Administration. She's worked at Duke since 1977, when she first used an IBM Selectric typewriter. "We had six-by-six-inch floppy discs we had to put in the computer for programs."
In 1983, Duke had two "clusters" of computer labs with 10 to 15 IBM PCs for use by the campus community, said Rob Carter, an IT consultant with the Office of Information Technology who earned his undergrad degree at Duke in the 80s and has worked at Duke since. By 1987, those numbers had doubled, Carter said.
"It wasn't too long after that departments starting rolling out IBM PCs running on a Disk Operating System," Carter said. "By 1991 or 1992, I was running a bunch of Sun workstations that were exclusively for use in engineering and computer science departments."