Student Honors and Laurels, 2013
Departmental, university and national awards for the past year
National Awards
Goldwater Awards
Duke juniors Kushal Seetharam and Yaohua Xue are among 271 students awarded Goldwater Scholarships for the 2013-14 academic year. The one- and two-year scholarships will cover the cost of tuition, fees, books, room and board up to a maximum of $7,500 per year.
Xue, a chemistry and economics double major from Apex, plans to pursue a M.D./Ph.D. in pharmacology and cancer biology. She is interested in conducting research on cell-signaling pathways implicated in cancer and designing drug therapies that target those pathways.
Seetharam, an Angier B. Duke Scholar from Great Falls, Va., is a physics and electrical and computer engineering double major. He intends to earn a Ph.D. in applied physics, and wants to conduct research in applications of electromagnetics and photonics.
In 2012, current seniors Kenneth Hoehn and Clara Starkweather received the Goldwater Scholarship.
Marshall Scholarship
Duke senior Kenneth (Ken) Hoehn of Canton, Ga., has won the prestigious Marshall Scholarship.
Hoehn, an Angier B. Duke Scholar who is studying evolutionary and computational biology, will go on to complete at least two years of graduate study in the United Kingdom. Hoehn plans to use his award to pursue a doctoral degree in evolutionary genomics at the University of Oxford.
Truman Scholarship
Patrick Oathout and Jacob Tobia, juniors at Duke University, are among 62 students selected this year as Truman Scholars.
A double major in public policy studies and philosophy, Oathout plans to pursue a joint graduate degree in law and foreign service. His focus will be international relations, security and refugee and humanitarian emergencies.
Tobia, a Benjamin N. Duke Scholar and Point Foundation Scholar, is a native of Raleigh. He is pursuing an undergraduate degree in human rights advocacy. He intends to use the Truman scholarship to pursue a joint graduate degree in law and public administration, with a concentration in international human rights law and international relations.
In 2012, current senior Kristen Lee, who has been involved in women's health and gender equality issues, was selected a Truman Scholar.
Fulbright Scholarships
Fifteen recent Duke graduates are studying, conducting research and teaching English abroad during the 2012-2013 academic year, as Fulbright scholars, and administrators in The Office of Undergraduate Scholars and Fellows hope the success of these Duke students will encourage others to apply for the U.S. government's flagship international educational exchange program.    
Duke's 2012-2013 Fulbright recipients, their countries and work include:
Tosin Agbabiaka -- Belgium and Greece -- federalism and asylums
Hannah Chartoff -- Egypt -- language and literature
Kaveh Danesh -- China -- public health
Lisa Deng -- Malaysia -- public health
Christopher Grigsby -- Singapore -- biomedical engineering
Tyler Hayes -- Switzerland -- medical sciences
Lauren Hendricks -- Mongolia -- English as a second language
Jessica Kim -- South Korea -- anthropology
Shining Li -- Bulgaria -- English as a second language
Christina Mobley -- France -- history and culture
Kate Newman -- South Korea -- English as a second language
Mikael Owunna -- Taiwan -- English as a second language
Will Passo -- Taiwan -- English as a second language
Ashley Thomson -- Vietnam -- engineering
Megan Weinand -- Mexico -- English as a second language
Faculty scholars for 2013: Caitlin Finn, Daniel Stern, Katherine Zhang and Madeline McKelway
University
Faculty Scholars
Two Duke juniors who have compiled an exception record of undergraduate research and scholarship have received the Faculty Scholar's award, the highest award given to students by the faculty.
The winners and their nominating department are: Daniel Stern (Mathematics) and Katherine Zhang (English/Economics); honorable mentions went to Madeline McKelway and Caitlin Finn.
African and African-American Studies
Jennifer Denike won the John Hope Franklin Award for Academic Excellence
Camille Anderson received the Karla F. C. Holloway Award for University Service
Laura Maule received the Walter C. Buford Award for Community Service
Mantegafta Getanesh Yilma earned the Mary McLeod Bethune Writing Award
Air Force
Kendrick Kwasi Fitzgerald, Thomas Jun Hong, Matthew Luke Neelon and Christopher Way Puckett were named Distinguished Military Graduates.
Art of the Moving Image
Kal Chapman won the Outstanding Undergraduate Student Filmmaker of the Year award.
Art, Art History and Visual Studies
Rebecca Ann Kuzemchak and Yuan (Ingrid) Zhuang won the Mary Duke Biddle Foundation Visual Arts Award
Mary Rose Medearis Superfine won the Nancy Kaneb Art History Award
Felix Johan Wibergh won the Sue and Lee Noel Prize in Visual Arts
Amanda Grey Jordan and Amanda Jean Ukleja won the Visual Studies Initiative Award
Elysia Pan won the Visual & Media Studies Distinction Award
Biology
Miriam Tien Hui Fox won the James B. Rast Memorial Award in Comparative Organismal Biology
Eli Payson Wilber received the Edward C. Horn Memorial Prize for Excellence in Biology
Anne Kathleen Johnson received the Excellence in Plant Science Prize
Stephani Kristin Zakutansky earned the Maggie Schneider Award in Marine Biology
Kenneth Bradley Hoehn won the Biology Faculty Award
Business
Monica Maria VanBuskirk won the Asa T. Spaulding, Sr. Award for Leadership
Andrew Stalnecker received the Breeden Award in Finance
Joshua Daniel Connor and Benjamin Neal van der Horst received the Distinguished Service Award
Dean's Recognition Awards went to Carrie Catherine Bloch, Elana Rebecca Boehm, Candace Alexandria Buford, Ryan John Clark, Jonathan Patrick Crimins, Stephanie Marianna Gorski, Stephen Robert Grygar, Kirsten Anne Hagfors
Jacqueline Ann Harris, Carla Michelle Hickman, Piarget Gyles Johnson, Abigail Kate Lundy, Ryan Richard Morrissey, María Angélica Rodríguez Retamoso, Jonathan Tyler Segal, Karen Elizabeth Vancina and Wenjia Wu
Dean's Leadership Awards went to Charles An, Marc-Antoine Andreoli, Annika Buettner and Gayathri Parthasarathy
Deborah Ann Kosta and Colin Joyner received the Keohane Leadership Award
Michael Bruno Jr. won the Alan D. Schwartz Award for Mentorship
Chemistry
Taylor Elizabeth Gill received the American Chemical Society Undergraduate Award in Analytical Chemistry
Jeong Hoon Ko won the American Chemical Society Outstanding Senior Organic Chemistry Student
Merck Index Awards went to Julie Jean Gonzalez and Eduardo Jose Pascual
Taylor Elizabeth Gill won the Department of Chemistry Award
Jonathan Rhines Thielman received the Hypercube Scholar Award
Classical Studies
Darius Rudnyckj Brown earned the David Taggart Clark Prize in Classical Studies and the award for Outstanding Achievement in Classical Studies Award from the Classical Association of the Middle West and South
Cultural Anthropology
Alexandra Suzanne Middleton won the Judith McDade Prize
Jessica Leigh Narloch won the Paul Farmer Award for Justice and Social Responsibility
Dance
Betsy Boxberger and Sarah McCaffery received the Julia Wray Dance Award        
Rebecca Holmes won the Clay Taliaferro Dance Award
Divinity
Julie Nicole Newberry and Adam Lawrence Cieszkiewicz won the Award for Excellence in Bible Studies.
Matthew Ford Price earned the Richard P. Heitzenrater Award for Excellence in History
James Bryant Manning and Angelo Emmanuel Sanchez received the Fellowship Seminarian Award
James Bryant Manning won the Hoyt Hickman Award for Excellence in Liturgics 
Krystle Carlene Higgins and Lisa Marie Talbott earned the Jameson Jones Preaching Award
McMurry Richey Awards went to Eric Richard Schubert for Outstanding Student Pastor; Colleen Allison Bookter and Amanda Louise Haines for Outstanding Students in Field Education; and Jeanne Kay Cross for Outstanding Student in Missions.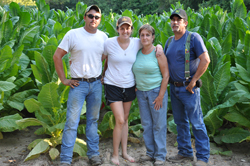 Hannah Scott and her family, the subject of her award-winning documentary
Center for Documentary Studies
Jacob Tobia won the John Hope Franklin Award
Hannah Scott won the Julia Harper Day Award
Duke University Union
Kristian Angelica King, King Lu and Ashley Yu-Fen Tsai received the Hal Kammerer Memorial Prize for Film and Video Production
Earth and Ocean Sciences
Julia Eileen Hazel and Paul Andrew Schisa won the Thomas V. Laska Award
Education
Nicole Marie Schollmeyer received the Holton Prize for Educational Research.  Matthew Sumner Strumph won the honorable mention.
Aliya Regina Pilchen received the D.T. Stallings Award
Haley Ellen Barrier received the Betsy Alden Outstanding Service-Learning Award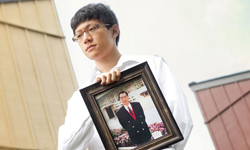 Pratt student Jinchin Liu with a photo of his grandfather, from Taiwan.
Engineering
James Morgan Dolan and Andrew David Jones won the American Society of Civil Engineering Prize
Jinchin Liu and Manoj Venkat Maddali received the Helmholtz Award.
Jake Anthony Sganga received the Otto Meier Jr., Tau Beta Pi Award
Laura Gabriela Oteiza won the Aubrey E. Palmer Award
Kathryn Brunet Latham won the Eric I. Pas Award
Dazhong Xuan earned the Theo Pilkington Award
Likun Xi earned the Charles Seager Memorial Award
William Joseph Scheideler earned the George Sherrerd III Memorial Award in Electrical and Computer Engineering
Grace Sea Anne Cambareri, Hunter Callum Douglas and Kala Valli Viswanathan earned the William Brewster Snow Environmental Engineering Award
Chen Zhao received the Charles Rowe Vail Memorial Outstanding Undergraduate Teaching Award
John Richard Jamieson III received the David Randall Fuller Prize
English
Harry James Liberman received the Barbara Herrnstein Smith Award for Outstanding Work in Literary Criticism or Theory.
Audrey Adu-Appiah won the Anne Flexner Fiction Award. Alyssa Danielle Wong took second place
Daniel Fishman won the Anne Flexner Poetry Award. Raasti Said won second place
Elizabeth Beam won the Terry Welby Tyler Jr., Award in Creative Writing
Danielle Replogle won the Academy of American Poets Award. Eleanor Callahan Bullard took second place
Jocelyn Lee Streid received the Award for Most Original Honors' Thesis
Elizabeth Beam and Daniel Fishman won the Schutte Senior Award for Outstanding Contributions in Creative Writing
Ebunoluwa Odolade Olaleye earned the Louis J. Budd Award for Outstanding Work in American Literature
Lindsey Osteen received the Margaret Rose Knight Sanford Scholarship
Nijai Blackwell won the William M. Blackburn Scholarship
Environment
Kevin Kun He and Nikhilesh Penmetsa Raju earned the Sara LaBoskey Award
History
John Kear and Julianne Kolb received the William T. Laprade Prize in History
International Comparative Studies
Samuel Jacob Davis and Genevieve Desloge Werner received the Capstone Research Prize
Hannah Kate Sieber won the ICS Distinguished Thesis Award
Marine Laboratory
Sharon Wing Ting Chan, Ruth Marie Kleischmann Griffith, Xuan Hong Lim, Theodore Hogeman Phillips and Nikhilesh Penmetsa Raju were named Rachel Carson Scholars
Mathematics
Bryan Jeffrey Jacobson and Kara Juliette Karpman received the Julia Dale Prize in Mathematics
Michael Christopher Banaszek won the Karl Menger Award for Superior Performance in the 71st William Lowell Putnam Competition
Military Science
Jessica Anne Tarsa earned the George C. Marshall Award
Music
Bryan Christian earned the William Klenz Prize in Composition
Matt Kambic, Jacqueline Sun and Ivy Zhou received the Julia Wilkinson Mueller Prize for Excellence in Music
Hannah Rutherford won the Henry Schuman Music Prize
Cameron Thompkins received the Anne Marie Parsons Memorial Prize
Kelly Calabrese, Cinnamon Mittan and Jenny Walters earned the Paul R. Bryan Award for service to the Duke University Wind Symphony
Nasher Museum of Art
Julianne Barlett Kolb, Stephanie Ann Bohn Chao and Sarah Soltis received the Mary Duke Biddle Foundation Summer Internship Award in Museum Studies
Cecile Diaz earned the Treat A. and Susan L. Carmichael Internship
Naval Science
Stephen Martin Clement and William Connor Lennard received the CNO Distinguished Graduate Award
Justin Tien Cheng Liu earned the Military Officers Association of America Award
Edward James McCarthy and Thomas Andrew Petrilak received the Sons of the American Revolution Award
Thomas Andrew Petrilak, Michael Oliver Dylan Pruitt and Devin Ryan Rojas earned the Colonel Frederick Knops Leadership Award
Jesse Allen Starr won the Military Order of the Purple Heart Award
Raven Nicole Stevenson earned the Daughters of the American Revolution
Award
Nursing
Yee-Ling Kwan won the Annie Beery Bieber Award for OutstandingLeadership
Mintoria Lynette Stockton earned the Ruby L. Wilson Excellence in ClinicalPractice Award
Emily Wade Lowery received the Thelma Ingles Excellence in Clinical Expertise and Scholarly Activities Award
Lauren Jeannette Beaudry won The Bonnie Jones Friedman Humanitarian Award
Political Science
Harry Liberman, Samreen Khan, Nicole Pavia and Daniel Strunk won the Alona E. Evans Prize in International Law
Jacob Friedman and Samuel Prywes won the Robert S. Rankin Award in American Government and Constitutional Law
Jed Lavery received the Robert S. Rankin Award in American, National, State, and Local Governments
Alexandra Swain and Justin Zhao earned the Robert S. Rankin American Government Award for Leadership and Academic Achievement
Leah Yaffe won the Elizabeth G. Verville Award  
Ryan Boone received the Ole R. Holsti Award in American Foreign Policy and International Relations
Psychology
Cassidy Ruth Fox and Ashley Lizbeth Ruba earned the Karl Zener Award for Outstanding Performance of an Undergraduate Major in Psychology
Public Policy Studies
Julia Rose Quinn won the award for Best Honors Thesis
David Major Harding Jr. and Ian Michael Harwood earned the Terry Sanford Leadership Award
Jing Song Ng received the Joel Fleishman Distinguished Scholar Award
Romance Studies
Anna Oliver McDonough received the Robert J. Niess/Alexander Hull Award in French
Lauren Williams Niculescu earned the Guido Mazzoni Award in Italian
Nelly-Ange Tchouatang Kontchou won the Richard L. Predmore Award in Spanish
Theater Studies
Lindsay Samuel received the Harold Brody Award for Excellence in Musical Theater
Ritza Calixte won the John M. Clum Distinguished Drama Award
Mao Hu and Hannah Sieber received the Dale B. J. Randall Award in Dramatic Literature
Steven Li won the Jody McAuliffe Award for Excellence in Directing.  He also received the Reynolds Price Award for Best Original Script for Stage, Screen or Television
Don Tucker earned the Kenneth J. Reardon Award for Theater Design, Management or Production
Molly Forlines received the Dana Marks Award for Outstanding Acting
Sam Kebede, Phil Watson and Kimberly Welch won the Alex Cohen Award for Summer Initiatives in Theater
Trinity College of Arts and Sciences
Sarah Frazier Van Name received the Bascom Headen Palmer Literary Prize. She also won the Louis B. Sudler Prize in the Creative and Performing Arts
Lauren Alicia Dixon and Evan Michael Leon received the James Rolleston Prize for Best Honors Thesis Written in a Foreign Language
Edward H. Benenson Award in the Arts went to Ritza Emmanuelle Calixte, Lauren DeLucia, Michaela Costello Dwyer, Molly Dunn Forlines, Conrad Nathaniel Haynes, Holly Marie Hilliard, Alana Simone Jackson, Kristian Angelica King, Rebecca Ahn Kuzemchak, Steven Li, Rebecca Pham, Alpha Gabriel Tessema, Philip Watson, Kimberly Chantel Welch, Genevieve Desloge Werner, Alyssa Danielle Wong, Ivy Zhou and Yuan Ingrid Zhuang
Women's Studies
Sharma Neha and Ashley Tsai received the Dora Ann Little Award
Carolyn Laubender won the Anne McDougall Memorial Award
Student Leadership and Service
William J. Griffith University Service Awards went to Sujatha Jagannathan, John McGinty, Kathleen Perry, Jocelyn Streid, Ashley Tsai and Ting-Ting Zhou
Student Affairs Distinguished Leadership And Service Awards went to Samantha Lachman, Kristen Lee, Wilma Metcalf, Julie Rivo and Ashley Tsai
James Flynn won the Lars Lyon Volunteer Service Award
Kathleen Perry received the Algernon Sidney Sullivan Award
Nelly-Ange Kontchou earned the Baldwin Scholars Unsung Heroine Award
Jay Sullivan earned the Julie Anne Levey Memorial Leadership Award.
Jesse Hu, Luke Maier, Gayle Powell, Carolyn Rath and Zalika Sankara received the Class of 2016 Leadership Award