'Redshirt' Chemistry Students Score Big
First-year students with less science experience get boost from introductory chemistry class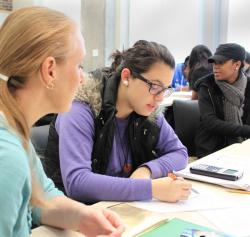 Quarterback Johnny Manziel "redshirted" his first year at Texas A&M, delaying his playing time by one year while he got the hang of the college game. The next year, he took home the 2012 Heisman Trophy. 
Duke senior Eduardo Pascual isn't that much different than Manziel in some ways.
Pascual was a "redshirt" in chemistry his first semester at Duke. He took an extra, introductory chemistry course, which he said gave him the skills and confidence to spend his first year after graduation in a research lab at a New York hospital and then apply to medical school.
The introductory class, Chemistry 99, targets incoming undergraduates like Pascual who are relatively inexperienced in science but have the ability to excel in the field, said Duke chemistry professor Richard MacPhail.
"I like the redshirt analogy," said MacPhail, who developed the course with chemistry instructor Dorian Canelas and others. "In football and other sports, you bring athletes in knowing they have the talent to be successful. But they need a little time to do the practices without getting blasted. It's the same for some students in science."
Pascual, a chemistry major who wants to become a radiologist, became interested in chemistry in high school and wanted to continue to study the subject in college. But he said he was intimidated when he came to Duke. "I'm from Puerto Rico, and there are some good high schools, but the difference between my background and others coming in was pretty big," he said.
The introductory, semester-long class tries to level the disparity in high-school education between students coming into the university. It is an extra class students can choose to take before they move into general chemistry. The class counts for graduation credit but not credit for the chemistry major because it does not have a lab component.
Duke's Academic Resource Center also created a complementary study group for the students called SAGE, Science Advancement through Group Engagement. The group meetings -- optional and independent of class -- let students work through chemistry problems and learn from students who have already gone through the introductory class and SAGE program.
Canelas said, on average, students who take the introductory chemistry class and SAGE perform as well as, or sometimes better than, their peers who come to Duke with more chemistry experience and do not participate in the program. She and her colleagues have been tracking the students' grades to measure the success of the program.
Since 1950, the National Science Foundation has spent more than $22 billion on research to determine why students leave science and to fix the leaky pipeline to the science and medical professions. One issue, Canelas said, is the disparities in high school science and math education that students bring to college campuses -- some students have taken multiple years of chemistry, while others, like Pascual, come with a year or less of experience with the subject. Students are also encouraged to take the class based on their math SAT scores.
"We're all products of our environment, our unique circumstances, where we lived, who our parents were, what kind of schools there were where we lived," Canelas said. "What chemistry class the students end up in [at Duke] has nothing to do with intellect, it is about past experience."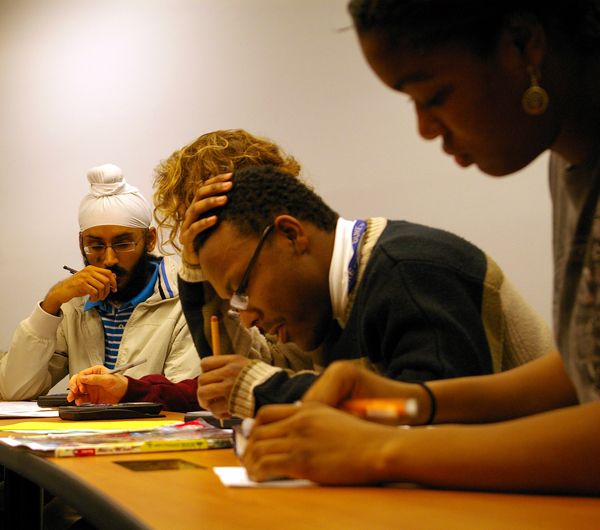 Students work through chemistry problems during their introductory chemistry class. Credit: Miguel Bordo, Duke Media Services.

Chemistry, however, is a gateway subject to the medical profession. Helping more students successfully move through the required pre-health chemistry curriculum should, in theory, increase the diversity of those going into medicine. But Canelas admitted she was initially skeptical about whether or not the introductory class and extra study group could level the playing field for students.
"I wasn't sure if one semester could catch students up to their peers and thought that with little or no chemistry background, their math skills might be too far behind too," she said. "But that was not the case for the majority in the students who've taken the introductory class, and especially those who have taken the class and gone through SAGE."
The class is a "compelling approach" to accommodate different levels of student preparation for college, said Joseph DeSimone, a distinguished professor of chemistry at UNC-Chapel Hill and chemical engineering NC State. He said he'd like to develop a similar introductory course at his schools. DeSimone added that he is unaware of any other approach like Duke's to address the education disparity issue in chemistry, but emphasized that actions to address it are important.
"I am a strong believer that diversity is a fundamental tenant of innovation. When people grow up with only a minimum of resources, they often think about problem-solving differently then those who grew up with a lot of resources," DeSimone said. "Both perspectives are important to get on the table for consideration. They inform each other as we learn the most from those we have the least in common with, so to maximize learning and innovation, we need to maximize for diverse points of view."
Legendary Duke chemistry professor James Bonk first proposed the idea of an introductory chemistry class in 2005. The department launched the introductory class in 2009, when Pascual was a freshman. Later that year Canelas partnered with the Academic Resource Center to start SAGE. 
Based on the success of SAGE, other departments, including mathematics and biology, are trying to add the extra resource for their general-level classes, MacPhail noted.
Still, he said, there is one drawback to the introductory chemistry class -- it puts students who take it a semester behind. And the class has no lab component, so it doesn't count toward the chemistry major or minor, the biology major or the neuroscience or pre-health requirements. 
This issue is another area where the redshirt analogy really fits, MacPhail said. "It makes it clear that there is a bit of a delay getting on the playing field. But you're doing that for a reason, which is to make sure people are going to be successful, that they are going to have the techniques and skills they need to make the plays," he said. Duke's chemistry department is working to resolve the issue, Canelas said.
Pascual, however, wasn't that concerned with the delay. He said taking the introductory class was the best decision he made while at Duke. 
"It was a mature decision, not to hype myself up, but I preferred to have a strong background first and then start my chemistry courses," he said. " Now I think I'm on par with the quality of students that Duke is known for, and I feel really confident going on, which is completely opposite of how I felt when I came in."