Journaling Workshop Unleashes Creativity
Free monthly journaling group offered at Duke Cancer Center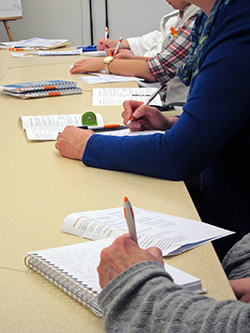 Molly Brewer distributed pens and notebooks to the six people seated around a conference table. 
Read More
"Just write for five minutes. No stopping," she said. "Write about whatever comes to mind and just keep writing."
A hush filled the room as pens moved across pages in neat controlled script and fast scribbles.
This exercise was part of the "Write for You Journaling Workshop," a monthly gathering sponsored by Health Arts Network at Duke (HAND) in the Duke Cancer Center. The free workshop offers an opportunity for patients, Duke staff and faculty and visitors to explore the benefits of releasing thoughts onto paper with no expectation that anyone else will see the words. 
The drop-in group meets from 11 a.m. to 12 p.m. on the second Friday of each month in the Duke Cancer Center. During the January meeting, a patient and five Duke employees gathered to experience ways to release their inner emotions and reap the benefits of writing.  
Brewer, who leads the journaling group as interim literary arts coordinator for HAND, said studies have documented decreased stress and blood pressure, fewer doctor visits and increased creativity among those who journal. 
"There is something special about writing and especially about the physical act of putting pen to paper," Brewer said. "It creates something tangible that captures a part of you, even if all you are writing is lists."
Virginia Webb, a staff specialist with the Phase 1, GI and Thoracic Clinical Research Unit teams at Duke Medicine, started attending the group late last year. For her, the monthly meetings provide an opportunity to recall memories of a friend lost to cancer six years ago. In January, Webb journaled about monthly birthday parties at her church, an activity she often shared with her late friend.
"I'm not at a point in my life where I can sign up for a writing course, so the structure of this journaling group is helpful for me," Webb said. "As hectic as my life is, it is truly a gift to be told that the only thing I have to do for the next five minutes is write what I choose - no expectations, no strings attached."
At the end of the January journaling session, Brewer led participants through a communal exercise. Using each letter from the word "comfort," the group described what they found soothing by writing this poem: 
Community,
Oatmeal cookies,
Maxie B's bakery,
Friday,
Oreo ice cream.
Resting with a quilt tucked under my chin,
Time is irrelevant.
 "How perfect," said Brewer, as she wrote the words on an easel. "And what a great example of the creativity each one of us has inside."