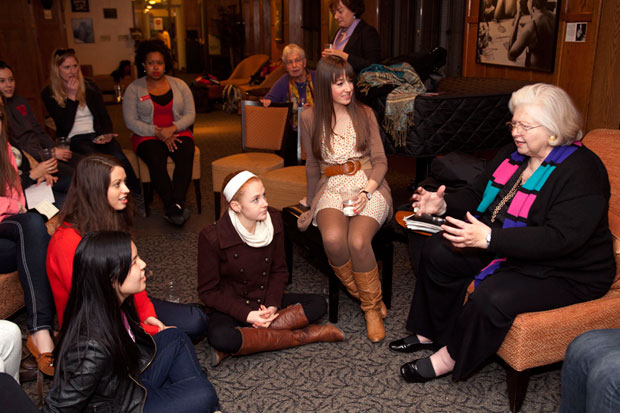 On the 40th anniversary of the historic Roe v. Wade lawsuit that established abortion rights in the United States, the attorney who successfully argued the case said she was "shocked" that the issue is still being debated.
Sarah Weddington delivered the deliver the 2013 Jean Fox O'Barr Distinguished Lecture to a large audience in Reynolds Theater in the Bryan Center.  Before the lecture she met with Duke students, including a session with the Baldwin Scholars (pictured), a leadership program for Duke women students.
In addition to Roe v. Wade, Weddington talked about women's leadership and the continuing obstacles to women seeking leadership roles. She noted that growing up in Texas, she was prohibited from running for student body president in high school.
The event is sponsored by the Baldwin Scholars Program, the Muglia Family, the Program in Women's Studies, the Duke Women's Center and Omega Phi Beta Sorority Inc.
Photo: Jared Lazarus/Duke University Photography