From the Archives: 1935 Bus Schedule
New series highlights archived material from past decades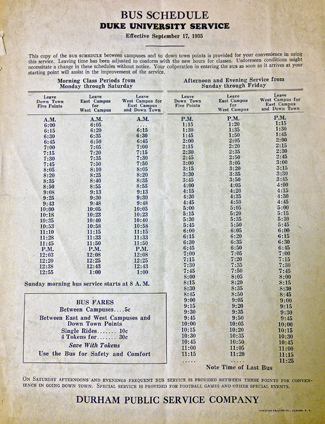 This 1935 bus schedule shows stops and fee information for Duke students. Courtesy of University Archives. Click for an enlarged version.
Every day, thousands of Duke faculty, staff and students enjoy the ease of hopping on a Duke bus at 113 stops on-and-around campus.
At one time, it wasn't so convenient - or free.
This Sept. 17, 1935 "Duke University Service" schedule from University Archives highlights three stops - one each in downtown Durham, West Campus and East Campus. Duke community members paid a 5 or 10 cent fare to ride. At that time, the city of Durham provided bus service until 1943 when Duke Power (now Duke Energy) took it over.
When Duke Power decided to raise minimum bus fare to 25 cents, Duke students began a "Shoe Leather Day" bus boycott Oct. 17, 1949, according to University Archives. During the two-week boycott, students shared rides and walked between East and West campuses.
In 1963, Duke began its bus service, which continues today at no charge.
Since then, there have been many changes to Duke's own bus service, including transitioning to today's hybrid-electric buses. Routes can even be tracked on desktop computers and smartphones through TransLoc, a service that provides real-time maps and arrival times.
At least one similarity exists between today's bus service and 1935 - increased routes to downtown Durham on weekends. The Bull City Connector, which is operated by the City of Durham in partnership with Duke, offers a direct route from Duke to downtown for free.
Curious how you can get around Duke with ease? Check out the variety of bus routes Duke offers. You may also be eligible for a GoPass to ride local and regional buses for free.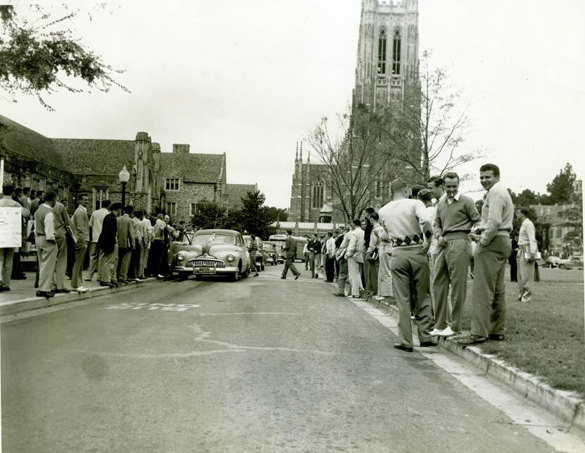 In 1949, Duke students made national news with a boycott of campus buses. They declared October 17 "Shoe Leather Day" to protest a hike in the campus-bus fare from a nickel to three tokens for a quarter. Newspapers around the country ran the Associated Press story of Duke students carpooling and walking between East and West campuses to demonstrate against the fare increase. Courtesy of University Archives.