'Road Devils' Program Takes Fans to Away Games
Cheer on Duke women's basketball on the road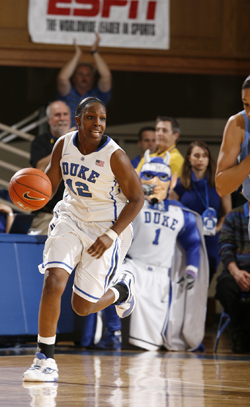 As the last undefeated team in women's college basketball, the Duke Blue Devils are starting a new Blue Devil tradition: they're bringing maniacal supporters to games outside of Cameron Indoor Stadium.
A group of Duke fans, in partnership with Duke Athletics, has launched a new "Road Devils" program that allows for fans to buy discounted tickets and bus fare to ride with fellow Duke women's basketball fans to regional away games. This season, fans can join the Road Devils for games in Chapel Hill, Charlottesville, Va. and College Park, Md. The first road trip is Feb. 3 when Duke plays the University of North Carolina in Chapel Hill.
"Other big programs seem to do this, so we figured it would be a fun way to let our team know they have lots of extra support behind them," said Melissa Reese, a research analyst in Duke's Stem Cell Laboratory who has helped organize the Road Devils program. "UConn and Tennessee have come into Cameron and brought loads of people with them, so why can't we?"
The women's basketball team is currently 15-0 and ranked fourth in the country.
Here are the costs and details to join the Road Devils, which is open to students, employees and local residents; an order form is available online.
Feb 3 - Duke at UNC $12 per ticket, no bus rideDeadline to apply Jan. 28
Feb. 8 - Duke at Virginia $40 per ticket, which includes bus fareBus leaves Durham at 1 p.m. Feb. 8Deadline to apply is Jan. 21
Feb. 24 - Duke at Maryland $55 per ticket, which includes bus fare$98.79 for king or double bed hotel roomBus leaves Durham at 10 a.m. Feb. 23Deadline to apply is Feb. 4
Jean Hanson, associate director of clinical support and outreach for Duke Student Health, will be traveling with the "Road Devils." She said the program is valuable because it offers the chance for the Duke team to have a little slice of home in hostile environments. Instead of hearing chants against them, the Blue Devils will have someone yelling for them, Hanson said.
"If you can fill a seat on our bus and can holler, you're welcome to join us," Hanson said. "We get so much enjoyment out of watching the team we want them to know we're there for them."