Duke in Pictures: Ringing the Victory Bell
Faculty, staff and students stopped by Perkins Library to see the football trophy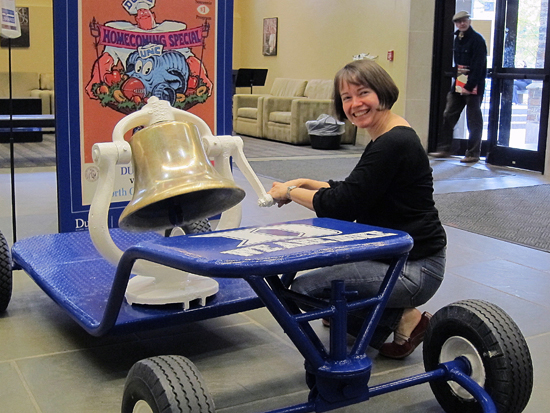 Grace White, a special collections conservator with Duke Libraries' Preservation and Conservation Services, got into the winning spirit Nov. 2 when the Victory Bell visited Perkins Library. The bell is given to the winner of the annual Duke-UNC football game, a tradition going back to 1948. Following Duke's dramatic 33-30 win over the University of North Carolina-Chapel Hill on Oct. 20, the Blue Devils are in possession of the trophy for the first time since 2003.
Along with the bell, historical photographs and Duke football memorabilia from the Duke University Archives were on display. Each hour between 10 a.m. and 2 p.m., students, faculty and staff passing by were encouraged to ring the bell by swinging the large, metal handle on its side. The trophy has been painted Duke blue with the Duke "D" insignia and football team's "WE ARE DUKE" slogan.
Below, Duke men's basketball team member Mason Plumlee - at almost 7-feet tall - bends over to give the bell a ring. Bottom: Football coach David Cutcliffe gives the bell a ring while President Richard Brodhead and others look on.