Duke in Pictures: Duke's Wartime History
Photo highlights moment from World War II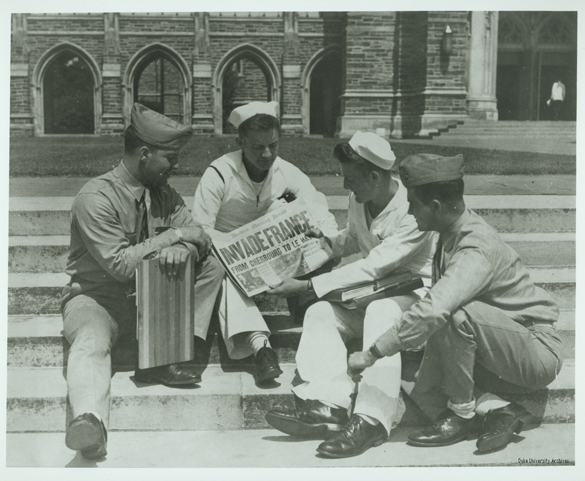 This photo was taken on D-Day - June 6, 1944 - on the Duke Chapel steps as members of Duke's Navy College Training Program read a headline about the Invasion of Normandy from the Durham Morning Herald newspaper.
Read More
Like other college campuses across the country, Duke felt the impact of World War II.
"Over 16 million soldiers served in the U.S. Army, while millions more men and women did their part by laboring at home," said Adriane Lentz-Smith, associate professor in the Department of History. "Duke students, like all Americans in the World War II years, sat poised on the brink of dramatic change."
As the draft began in 1940, thousands of Duke students employees, and alumni produced scholarly output and grew a culture of social volunteerism on and around campus. Student ranks grew with an influx of women and soldiers who planned to aid the country's efforts by furthering their education.
Many students gained military training by joining divisions like the Duke Naval Reserves Officer Training Corps and the 65th General Hospital Unit. University relationships with the U.S. government pushed for engineering studies and advanced experimental research in chemistry, medicine and other disciplines.
During wartime, Duke's Women's College increased admissions, allowing students like Marie Foote and Muriel Theodorsen to become the first two women to earn engineering degrees from Duke. Other programs - including Economics, Medicine, and Divinity - experienced a jump in female enrollment as well.
The College Organization for General Service, created by women students at Duke, contributed to the war effort through activities like preparing bandages, organizing fundraisers for charity and attending social events for soldiers. Duke also hosted a division of the American Women's Volunteer Services, which held events and fundraising activities for the Red Cross and war bond campaigns.
In 1941, Duke activated a Naval Reserves Officers Training Corps that produced student soldiers, including many who were part of Duke's Navy V-12 unit. Nearly 4,000 student soldiers made their way through these programs during World War II.
Duke administrator Paul Gross also spearheaded an effort by the Department of Chemistry to create a "frangible bullet" that would break up upon impact, enabling American soldiers to perform shooting drills on actual aircraft. Other research projects at Duke during wartime included ways to control venereal disease and studying effects of vitamin B deprivation.