Duke Hosts Veterans Day Event Nov. 12
ROTC members, speakers highlight campus ceremony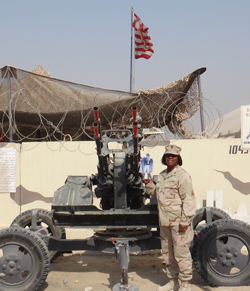 Duke community members will gather outside Duke Chapel to commemorate Veterans Day at 11 a.m. Nov. 12.
Read More
The event, which is open to the public and Duke community, will feature representatives from Duke's ROTC units, including the Army, Air Force and Navy. Guest speakers will also present during the 30-minute ceremony.
"The dedication and selfless service that each of the men and women who serve our country is the foundation that provides us to live the lives we do," said Kyle Cavanaugh, vice president for administration. "It is imperative that we take some time each year to say thank you and to recognize their dedication and service."
Sponsored by Duke Human Resources, the commemoration will include welcome remarks by Cavanaugh and remarks from Deborah Daye, a benefits specialist in Duke Human Resources. She spent four years on active duty with the Navy from 1983 to 1987 and was a member of the Navy Reserve. As a reservist, she spent parts of 2006 and 2007 in Kuwait, as well as 11 months from 2011 to 2012.
Daye said her family members have been involved in the U.S. armed forces for about 70 years, spanning conflicts from World War II to Vietnam to today.
"I grew up hearing war stories from family members about active duty, the place they went and the friends they made," Daye said. "Veterans Day is a time to realize we shouldn't take our freedoms for granted and understand we should appreciate what we have."
Help spread the word about Duke's ceremony by downloading and posting a flier.
Schedule on Nov. 12
11 a.m. - National Anthem from Duke ROTC units11:10 a.m. - Opening remarks from Kyle Cavanaugh, vice president for administration11:15 a.m. - Remarks from Deborah Daye, Duke Human Resources benefits specialist and retired Navy reservist11:25 a.m. - Closing remarks from Kyle Cavanaugh