Duke in Pictures: Veterans Day Ceremony
Community commemorates holiday outside Duke Chapel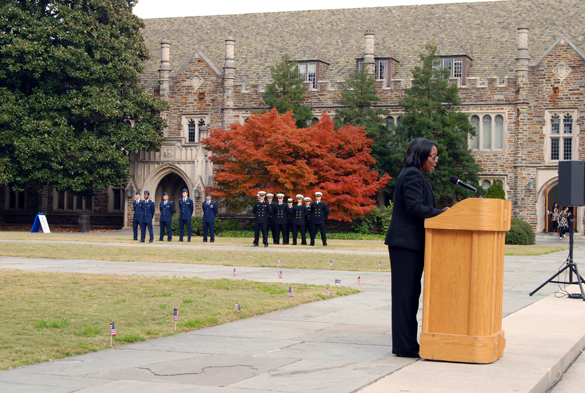 About 50 people came together in front of Duke Chapel Monday to commemorate Veterans Day. The annual event was sponsored by Duke Human Resources.
Deborah Daye, above, a benefits specialist in Duke Human Resources who served on active duty with the Navy from 1983 to 1987 and a member of the Navy Reserve, was guest speaker. She spoke about the history of her family serving in the U.S. Armed Forces, starting with her uncle who joined the Army during World War II. Daye pointed out the importance of remembering those who have served the country and why Americans should continue to honor service members at home and abroad.
"Our gathering is just one small spark in the flame of pride that burns across the nation today and every day," she said. "It's not a lot, but it's one small way we can honor those who have made the ultimate sacrifice so that we can live in freedom."
Below, members of Duke's ROTC units stand at attention prior to presenting their flags for the playing of the national anthem.
To view more photos from the event, visit Working@Duke's Facebook page.