Family of five writes stats book together
Lock family collaborates to change the way we learn statistics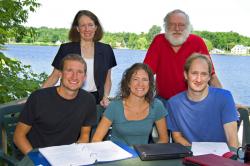 For most families, a summer trip to the lake house is usually nothing more than sunscreen and swimsuits.  But if you're a member of the Lock family, you'd better pack your A-game in statistics too.
All five members of the Lock family have spent their recent summers holed up together in their upstate New York lake house writing a new introductory statistics textbook. After three years of intense arguments and editing, the new book, "Statistics: Unlocking the Power of Data" by Lock, Lock, Lock, Lock and Lock, is out this month, and is available for sale on Amazon and through the publisher, Wiley.
"What we're trying to do with this book is develop a new way of teaching statistics that is more intuitive and understandable than the mainstream way the subject is typically taught," says Kari Lock Morgan, an assistant professor of the practice in statistical science at Duke, first-born child, and co-author of the new book. The text relies on realistic datasets, visual learning, and conceptual understanding, rather than "plugging numbers into ugly formulas," Kari says.
"It may take a little while for it to catch on, because many professors, including me, were not taught with simulation methods," says Purdue sociologist Sarah Mustillo, who earned her PhD at Duke and has been testing the book in her classes. "(But) I think this book has the potential to radically change the way we teach introductory statistics. When I look into the students' eyes as I'm teaching, I've never been more confident that they are really understanding what I'm saying."
The idea for the Lock family statistics book first began as a joke. At the time, parents Robin and Patti Lock and their three kids -- Kari, Eric and Dennis -- were all either teaching or studying statistics. So why not write a book about it, they would say.
Then in 2007 St. Lawrence University statistician and patriarch Robin Lock attended a conference where another professor presented a new way of teaching introductory statistics, and the concept became more realistic. The philosophy was based on using a computer to simulate what would happen just by random chance, rather than relying on complex formulas and theoretical distributions.  It focuses on conceptual understanding by using intuitive methods to arrive at the same answers traditionally reached by plugging numbers into formulas.  
"At the time, there was no mainstream teaching tool to promote this philosophy of teaching statistics," Kari says. The Locks began brainstorming the best way to put all of the information into a new teaching text. What they developed was a teaching tool that "gives students the power to directly simulate and generate the statistical values so they understand what they are doing, not just plugging and chugging," Kari says.
The family is excited the book is done, especially because "we really feel strongly that it can improve statistics education and make statistics much more enjoyable and understandable for students," she says.
Visual and conceptual learning isn't a novel way of teaching for the Locks. Family matriarch, St. Lawrence University mathematician Patti Frazer Lock, is well-known for advocating for alternative teaching philosophies and worked with a Harvard consortium in the 1990s to transform the way the instructors taught calculus at the collegiate level, shifting the emphasis towards conceptual understanding.  She is a co-author of the Hughes-Hallett et. al. books used in calculus courses at Duke.
The new book "Statistics: Unlocking the Power of Data" by Lock, Lock, Lock, Lock and Lock, is out this month, and is available for sale on Amazon and through the publisher, Wiley. Credit: Wiley.com.
Working with that expertise and the experiences each family member had teaching and learning statistics, the Locks outlined their 736-page book chapter by chapter. Kari says before writing a single word, the family had lengthy discussions, and some arguments, about the ideas and learning goals of each chapter.
"We made sure that all the big decisions about content and context were made in person and as a family at the lake house," she says. Then, once the debates ended, one family member would draft a section and then they would reconvene and go through it word by word.  This iterative process went on until all eleven chapters had been drafted and all five Locks had gone through them line by line. The family also developed a set of online statistical tools, called StatKey, and the datasets to include with the book.
"The most time-consuming aspect was choosing the datasets for the examples," Kari says. For students, fake datasets, or even fake data that's supposed to be real, such as average heights, don't do it. "Students want to see IQ based on birth order or GPA based on major. Sets of numbers that are real and relevant make them curious and want to find out, is there a relationship there." Now, they can learn statistics by seeing if red wine can really help them lose weight or if having a TV on in their room at night makes them gain it, she says. She has used the book in STAT 101 at Duke last year and this year.
"The real datasets are a real asset to the Lock et al. approach," Mustillo says.
While testing the book in her class, she says her goal has been is to get students to become aware of how statistics are all around them, in the news, in the doctor's office, in the grocery store. "The real data sets give them countless examples of statistics from the real world, which helps to bridge the gap between classroom and lived experience," she says.
Luke Miratrix, an assistant professor in statistics at Harvard University, has also tested the book in his introductory classes and says the book has a "fantastic collection of datasets" and is "definitely a new way of approaching statistics." He says he is not 100 percent committed to teaching entirely with the new philosophy the Locks have laid out, but he does think the book moves away from the traditional, dated way of teaching statistics and more in the direction of teaching the subject in the context of the computational age. "I think the book has a lot to offer in that sense," he says.
So far the family has gotten mostly positive feedback from the 15 professors who used test copies of the new book in their classes. But "we'll really know if the book is a success if more and more people begin to order it for spring and fall of 2013," Kari says.
The family, she adds, doesn't have any more collaborative projects in the works yet. They may have even enjoyed a Thanksgiving meal together without debates about the book. But it's not likely they'll avoid the topic of statistics altogether: Kari's brothers, Eric, a post-doc at Duke in statistics, and Dennis, a student in statistics at Iowa State, are both dating statisticians, she says. 
Meanwhile, Kari and her husband, Duke engineer Eugene Morgan, are expecting twins. What are the odds?