Duke in Pictures: Tips n' Treats
Duke Police Department holds meet-and-greet events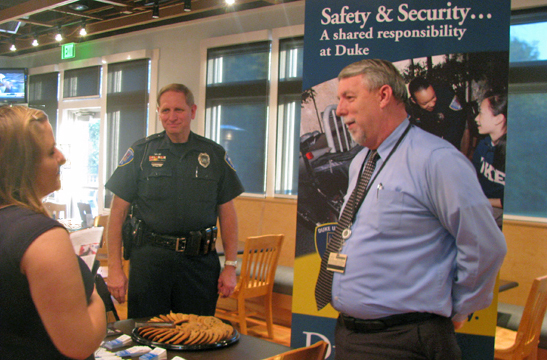 Duke Police's David Williams, right, and Eric Hester, center, chat with a Duke student about campus safety at the Central Campus' Food Factory at Devil's Bistro. Williams, Hester and other members of the Duke University Police Department met with Duke community members this week as part of their biannual "Tips n' Treats" series.
The events took place at East, Central and West campuses on Tuesday, Wednesday and Thursday as a means for officers to informally meet with students, faculty and staff to talk safety and hand out candy or cookies provided by Duke Dining Services. Duke Police distributed about 750 wallet cards featuring safety tips and contact information for the department. Offers also engraved several laptops, cell phones and a bicycle, a free service offered by the department.
"Engraving property increases the likelihood of it being returned to its owner if it's ever lost or stolen," said Williams, crime prevention manager with Duke Police. "Each year I'm more impressed with students taking the initiative to protect their property and show a greater awareness and ownership for their security and safety."
Find tips on personal and property safety on the Duke Police website.