Take Ten and S-t-r-e-t-c-h at Your Desk
Reduce stress, tension and burn calories by taking 10-minute breaks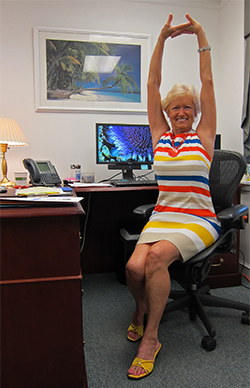 Jean Senter laced her fingers together above her head and stretched her palms toward the ceiling. Feeling the pull around her ribcage, she stood up and squatted 10 times. 
Read More
She logged the strength and stretching exercises on a paper sheet as part of the "Take Ten: Energize Your Day" program offered through LIVE FOR LIFE, Duke's employee wellness program.
"I love these breaks," said Senter, an administrative assistant in the Center for International Studies. "For me, they are like a stimulant." 
Take Ten is a self-paced program that guides participants through five levels of strength and stretching exercises, such as wall push-ups and arm, leg and neck stretches. Each level involves completing an increasing number of repetitions of stretches. Take Ten allows participants to track daily walks, too. Participants earn LIVE FOR LIFE dollars, paper tokens that can be used to purchase exercise equipment and other products at the LIVE FOR LIFE store.
Incorporating daily movement is vital for well being, particularly for people with desk jobs, said Liz Grabosky, fitness manager for LIVE FOR LIFE. She said research shows that brief periods of physical movement during a workday burns calories and helps reduce stress and tension. 
"We have to proactively fight against our sedentary culture," Grabosky said. "This program is a way to remind and encourage people to do what they already know how to do - move."
Last year, 395 Duke employees registered for the Take Ten program, up from 332 in 2010. 
Senter has been using Take Ten since 2007 when family responsibilities made it difficult to schedule early morning trips to the gym. Now, she takes 10-minute mini-breaks up to three times each day and has completed the five levels several times over.
With the LIVE FOR LIFE dollars she earns in the coming weeks, she plans to purchase socks, gym shorts and other exercise equipment at the LIVE FOR LIFE store, which is in the lower level of the Duke Clinics Building. 
"I enjoy getting to buy things with money I've earned by exercising," she said. "I even used $500 of the LIVE FOR LIFE dollars to purchase an iPod shuffle for my nephew last Christmas."Senter, who is in her 60s, credits Take Ten with helping her maintain enough strength and flexibility to enjoy the shag and swing dances she and her husband attend in Wake County each Friday.
"I know that I'm getting older, along with everyone else," she said. "But I'm blessed with good health, and I plan to do everything I can to maintain it."