Duke Offers New Dental Insurance Option
Preferred provider dental option offers lower fees and no deductibles
Duke is offering a new dental insurance option that offers savings to participants who use providers within a network of providers. 
During Open Enrollment, which is Oct. 22 through Nov. 2, staff and faculty can choose to enroll in the new Dental Preferred Provider Option (PPO) plan or select from the current Plan A or Plan B programs. 
Read More
Currently, about 21,600 employees participate in one of Duke's dental plans. The addition of the new preferred provider option will offer many of these employees a way to save more on dental expenses, said Sylvester Hackney, associate director of benefits at Duke.
"In the 1990s and 2000s, there weren't enough providers in the dental PPO network to make it a good fit for our employee base," Hackney said. "During the last few years, the network has expanded. It now offers better coverage for our employee population. Over time, we expect the network to continue to expand and become a better value for more of our employees." 
Benefits of the new dental option include:
No annual or lifetime deductibles
A higher maximum annual benefit than Plan A or Plan B
Reimbursement based on lower negotiated prices for procedures 
Monthly premium of $36.86 for individual coverage (higher than Plan B but lower than Plan A)
Ameritas, the company that offers dental insurance to Duke, recently expanded the network to include 200 providers in the Durham area and many more across the state and the nation. Ameritas offers a website where you can discover what dental providers are available in your area. 
Duke will continue to offer Plan A and Plan B along with the PPO plan. Individual monthly premiums will be $12.18 for Plan B, $39.58 for Plan A and $36.86 for the PPO. 
Plan A and the PPO plan offer higher levels of reimbursement based on a percentage of the bill, an important factor for participants likely to need fillings, extractions, orthodontia or other major dental procedures. Because Plan A reimbursement is based on the "usual and customary" charge of the region, and the PPO reimbursement is based on a lower, negotiated price, the PPO can offer lower out-of-pocket expenses than Plan A. 
Plan B will continue to reimburse at a fixed price for each procedure, regardless of what the provider charges.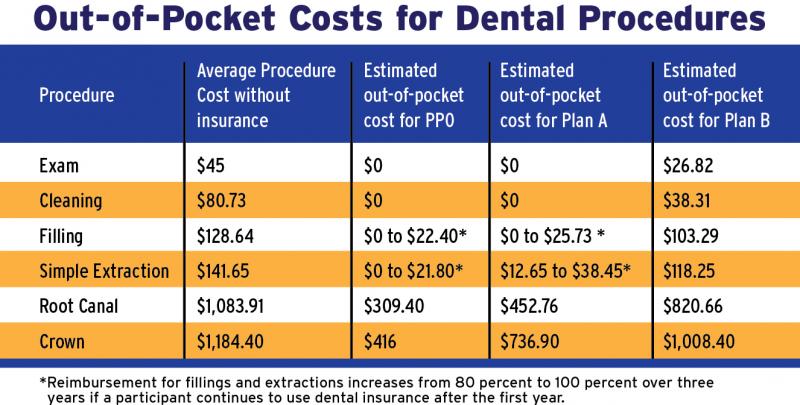 How much an employee pays for dental procedures depends on choice of dental insurance and the amount billed by the provider. This chart shows estimated out-of-pocket expenses for various procedures based on average costs in the Durham area.