Meet Maky, Duke's Lemur Mascot
Voters select Malagasy word for ring-tailed lemur mascot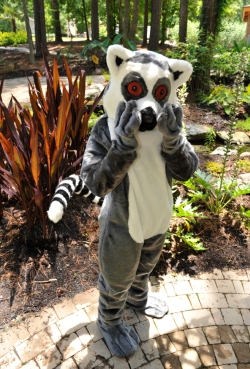 Meet Maky (pronounced Mah-key), the newly named mascot for the Duke Lemur Center.
Maky is the word for ring-tailed lemur in Malagasy, the language of Madagascar, the island home of lemurs. It was the most popular of the four choices voted on by 324 people responding to the Lemur Center's social media campaign to name the mascot.
The Duke Lemur Center recently purchased a new ring-tailed lemur mascot costume for local events, but when the mascot made his debut at the premier of the movie Madagascar 3 at The Streets at Southpoint, nobody knew what to call him. The Lemur Center had the new lemur costume custom made to replace the 20-year-old sifaka lemur outfit that was rapidly deteriorating.
"The new costume is a lot more pleasant," said Joel Bray, a Duke senior and volunteer at the Lemur Center. He often dons the costume to help promote awareness of the Lemur Center.
Follow the Lemur Center on Facebook to get updates on when and where Maky will make his next appearance.