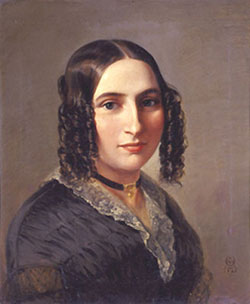 A Duke University graduate student in the Department of Music has solved a longstanding mystery surrounding the work of 19th-century composer Felix Mendelssohn.
Doctoral student Angela Mace found that Mendelssohn's talented but lesser known sister, composer Fanny Hensel, actually composed the "Ostersonate" (Easter Sonata) for piano, not Mendelssohn himself.  
In 2010, Mace gained access to an original, privately owned manuscript of the piece. After examining the original alongside Hensel's diary, family letters, and a bound collection of her handwritten scores, Mace determined Hensel composed the "Ostersonate." She also found it had been composed a year earlier than previously thought, in 1828, rather than 1829. 
"I was able to actually review the manuscript for about 45 minutes one afternoon," Mace said, noting the manuscript was clearly written in Hensel's handwriting. Though she hadn't signed it, "she had written 'Ostersonate,' the title, herself, on the piece," Mace said.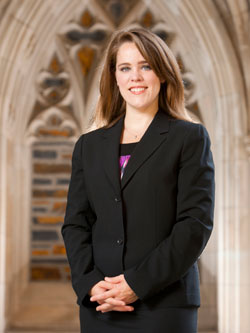 Graduate Student Angela Mace
For Mace, the discovery was a dream come true.  
"Finding the manuscript is definitely one of the most exciting moments of my career so far," said the 28-year-old Mace, a Mendelssohn scholar pursuing a doctoral degree in musicology.  "It's really fascinating to think about this sonata that just vanished back into thin air."
R. Larry Todd, Arts & Sciences Professor of Music at Duke, said the Easter Sonata is not just a historical footnote, but a substantial piece that belongs in the company of Beethoven, Schumann and Liszt. Todd said the lyrical first movement "shows the composer to have been a devoted student of the late Beethoven sonatas," while "the deeply pensive second movement... turns to Bach for inspiration." The piece is a remarkable hybrid of two disparate genres.
"We usually think of 19th-century European music as familiar enough terrain. Occasionally, though, a forgotten or lost composition comes to light, and the circumstances of its history prompt a reappraisal of the conventional wisdom about the century we thought we knew all too well," said Todd, who teaches a course on 19th century women composers.
"Musicological sleuthing allows us to rectify the misattribution of the 'Ostersonate's' authorship, and to celebrate it as a major piano composition by a prolific woman composer whose work is now, after a century and a half, gaining the attention it deserves," he added.