School of Nursing 'Nuts and Bolts Guy'
Mitchell Vann manages space and facilities for explosively growing school
Name:  Mitchell Vann  
Read More
Position:  Director of facility operations, School of Nursing
Years at Duke:  7   
What I do at Duke: I'm the nuts and bolts guy for the School of Nursing. I was hired just one month before the School of Nursing broke ground on the 60,000-square-foot new building. Since we moved into the new building in 2006, we've had a series of renovations, enhancements and projects to handle the explosive growth of the school. Currently, I'm spending a lot of time helping to plan a new 44,000-square-foot addition to our new building. We expect to break ground this fall with completion set for the winter of 2014.
My first ever job: Working in tobacco fields in Gates County North Carolina during the summer before seventh grade. It was my way of earning money for school clothes.
What I love about Duke: Working in a place where there is so much vibrancy and growth and energy around me. I love that I live close enough to walk to work through Duke Gardens. I also love having a job where no day is the same. There are lots of challenges and opportunities. I love that.  
When I'm not at work, I like to: Garden. I like growing perennial flowers and shrubs that feed the bees and birds, including visiting humming birds. I also love eating from my vegetable garden. 
Something most people don't know about me: I have plays inside me just waiting to get written. I would like to write about what it is like to grow up in rural northeastern North Carolina as the youngest son of parents who didn't get past the 6th grade but who imprinted their dreams upon me.
To start a conversation with me, ask about: The American Dance Festival. My partner turned me on to modern dance through his work at ADF and it's been a love affair ever since. I saw almost every show this past summer. 
The books I'm reading right now: "The Florentine Renaissance" by Vincent Cronin, and "The Souls of Black Folk" by W.E.B. Du Bois. I've been meaning to read Du Bois for a long time.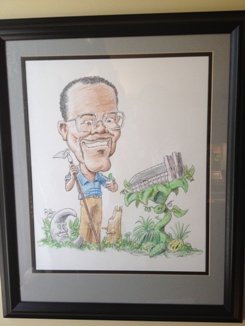 The most unusual thing in my office: A drawing of me by V. C. Rogers that the School of Nursing gave me in 2006 as a gift for helping with getting everyone moved into the new facility. 
The best advice I've received: My father taught me to save money so you can have what you need in life. My mother taught me to experience everything you can while you can. My life has been a fine balance on how to do a little of both.