Water Use Drops as Duke Population Rises
Numerous conservation efforts cut water consumption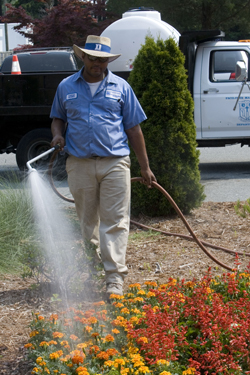 Since 2006, Duke has reduced its overall use of water by nearly 200 million gallons - a 30 percent decrease in consumption.
Read More
While that number may make for sustainability-induced smiles, it's even more impressive that in the past six years, Duke has added an additional 500,000 square feet of building and natural space and hundreds of additional students.
"Our continued focus on conservation and efficiency is not only beneficial to the campus but to our surrounding community as well," said Tavey Capps, Duke's sustainability director. "Even with the significant reductions we have achieved over the past few years, Duke is still the largest water customer in the city of Durham."
Duke has incorporated numerous ways to conserve and use water, such as storage cisterns located across campus that hold as much as 150,000 gallons of rainwater to be reused for watering athletic fields and landscapes.
Upcoming projects like a water reclamation pond on the fringe of West Campus will allow Duke to pump water from the pond to one of Duke's nearby chilled water plants to be used in the production of chilled water for cooling and dehumidifying campus and medical buildings. Duke officials expect the initiative will significantly decrease the amount of potable water use on campus.  
The reclamation pond, which will take about a year to complete after its spring 2013 start, is in addition to what Duke's West Campus Chiller Plant already accomplishes: That chiller plant uses about 40 million gallons of non-potable water from alternative sources to produce chilled water to cool campus buildings, labs and hospital areas.
"Duke is always looking for new ways to conserve water, especially since we've regularly been in drought status in North Carolina," said Steve Palumbo, energy manager for Facilities Management. "Students, faculty and staff can even help us maintain sustainable practices by reducing unnecessary water use and reporting things like leaking faucets."
In order to help spur more water conservation across campus, Duke is stepping up efforts to cut water use, Palumbo said. This summer, Duke performed water audits on some of its highest water consuming buildings across the university. Facilities used the audit information to identify sources of environmental and financial savings.
After the water audit review is completed, extra efforts will be made to educate Duke community members on water-saving techniques. Capps, Duke's sustainability director, said that Duke plans to expand water conservation aspects of its green building guidelines, which requires all new construction and major renovations to achieve certification in Leadership in Energy and Environment Design by the U.S. Green Building Council.
"We'll assess where we can have the largest impact and focus on strategies that include operational elements such as bathrooms and labs as well as further education of the campus community on their personal impact," Capps said. "Because of the consistent drought we've seen in recent years and the importance of this resource, it's imperative to keep responsible water use a priority."