Gary Sheng worked on a web app for a new company called Pocket. Ashley Qian interned at another startup, Bizo, that provides new marketing tools. Bryan Antigua and Kevin Fishner started their own company, Tivly, which enables friends to share recommendations and discounts online. David Mayer developed software to help a former Duke basketball star.
They were among 10 Duke undergraduates who spent the past summer in California immersed in the Bay Area's entrepreneurial community. Five held internships at companies where Duke alumni work and the others pursued their own startups at DogPatch Labs, a Palo Alto "incubator" that has spawned successful companies such as Instagram. All received stipends to cover their expenses.
"My head is spinning from all the cool things that have been happening in my own little startup zone and the cool stuff there is to do in the Bay Area," said Sheng, a sophomore from Aurora, Ill. "From what I have experienced so far, from the lighthearted interactions between coworkers to the passionate discussions regarding the future of the company, I can genuinely see myself at some point in my life investing some time in a startup of my own, or joining an existing one. Despite my limited work experience, I can't imagine there are that many more rewarding or educational careers you can engage in than entrepreneurship."
The Duke Global Entrepreneurship Network (DukeGEN), an international network of more than 4,500 Duke alumni and others involved in entrepreneurship, organized the summer programs, which concluded at a gathering on Friday. Shea Di Donna and DukeGEN co-chair Matt Koidin, both graduates of the Fuqua School of Business who are active in the Bay Area startup scene, worked with DukeGEN's Howie Rhee to arrange the internships and bring the students together with local entrepreneurs, investors and others.
When they weren't writing computer code, meeting business attorneys or attending social events such as a San Francisco Giants game featuring the first perfect game in the team's history, the students discussed their experiences on a blog. Duke Today excerpts some of their posts below, which have been lightly edited:
Ashley Qian
Ashley Qian, June 27:
I was sitting on the Dublin/Pleasanton BART train fixing up my CSS code for my personal web portfolio. The man next to me struck up a conversation: "So is that CSS you're playing with? What are you writing it for? Work or school? I replied that I was doing it for personal reasons, and told him I was a freelance designer working on developing my programming skills and a website that displayed my work. He was shocked when I told him I was a Duke student and even more surprised when I told him I was majoring in both CS and Visual Arts. "What the heck—excuse me for my language, but Duke?! What are you doing out here? Wow, you're a rare kind, not many of the people I work with or have seen are hybrid designers and developers."
Bryan Antigua, July 15:
We recently successfully re-launched our splash page and I find it amazing how much visual perception plays a role in information processing. From my experience with the previous page, people liked the product, but only after it was explained to them. Now every time I show the page I get a "WOW." One of the residential entrepreneurs we regularly meet even mentioned, "It's better to have a great design and non-working code than the other way around." As much as I wish it wasn't true, he's right.
Shawn Wadia, July 18:
The speakers this week continued to exceed my expectations. They demonstrated a tremendous amount of insight into the world of venture capital. All of them were keen to dispel some of the oft-perpetuated myths surrounding the process of acquiring venture funding.
Veronica Ray, July 18: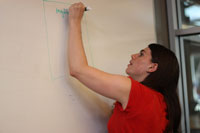 Veronica Ray
While I enjoy writing code, I really enjoy design. One unique aspect of working in a tiny startup is that design and engineering are not separated. I have gained skills in many areas. I could now potentially be a UX [user experience] designer, project manager, marketer, account manager or developer. After my internship I want to focus on gaining a complete skill set in one job title. I came into this summer confident in my marketing ability but open to learning more technical skills. Now the product side resonates with me more. I want to keep building things.
David Mayer, July 17:
The last feature I had to implement for the build of Cube being shipped to Brian Zoubek for the opening of his new cream puff bakery (seriously) was a simple time clock. I don't think the back end is set up to support it yet, so this feature was essentially a stopwatch that kept running as the user went to different pages of the app. This seemed like an easy enough feature, so I didn't start to work on it until two hours before the product was supposed to be done. Oops. It was a little more complicated than I thought.
Cole Vertikoff, July 18:
Last week I attended one of the most enjoyable events I've been to in Silicon Valley, the Duke Alumni Association's Forever Duke Send-Off Party for the class of 2016. ... Duke people LOVE meeting other Dukies.  As soon as two people discover a Duke bond between themselves, they have an instant connection.  As the Send-Off Party went on, into the evening, this became more and more apparent. Future freshmen were chatting up incredibly successful alumni (that many high school grads might not have had the guts to reach out to had they not shared the Duke bond) with ease.  The alumni were equally excited to meet all of the freshmen and hear about their future plans.  
Kevin Fishner, June 26:
In choosing between a corporate gig at a 300,000-person company with structured time frames, hierarchies and minimal influence versus a 2-person company with fear, anxiety and the tiny chance to make a difference, the choice was simple. I'd rather devote my life to the miniscule probability of making a small difference and accepting the fact that I'll likely fail than waking up each morning to follow directions. With one attempt to be remembered by history, why not risk it all?
Jacob Frumkin, June 20:
If you really want to disrupt the market and catalyze change, you must believe in your idea and dedicate yourself to implementing your innovative vision. If you make the brave decision to "take the plunge" and begin to execute your vision, you may fail. Statistically speaking, you probably will fail. But in the process, you will afford yourself the opportunity to learn a great deal about developing a product. This is the kind of invaluable, hands-on knowledge that you can only learn by doing.
Photo below: Students and others with the DukeGEN program visited Apple's iTunes headquarters in July to discuss product launch strategies with Apple senior vice president and Duke alum Eddy Cue. Photo by Malinda Whitson.