Eat What You Learn
The inaugural university course on food studies helps students connect with what's on their plate
Eliza MacLean arrived to class a few minutes late. Her hair was pulled back in a loose ponytail, sunglasses gripped her head, her jeans and boots showed the telltale signs of muddy farm life. 
She said she had just driven from her farm, Cane Creek in Snow Camp, N.C., where she'd given a farm tour and the questions ran late. Now she was on Duke's campus to face still more questions, this time from students in the university's food studies class. 
Read More
Cane Creek, a small-scale hog farm, has become a local model of sustainable pasture farming, where animals are allowed to graze freely, to root, wallow and raise their offspring with minimal human interference. The farm supplies many area restaurants with fresh meat and eggs and other farmers with live animals. During class, MacLean showed cute slideshow photos of her "farm animal family" and spoke of them with the same affection reserved for pets.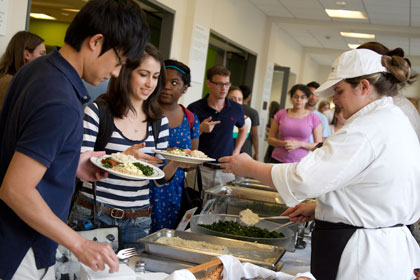 Duke students prepare to eat during a session of the interdisciplinary university course on food.  Photo by Jon Gardiner
When she finished, Heidi Winner, a graduate student in the Nicholas School of the Environment, raised her hand and asked the question on everybody's mind.  
"How do you kill your animals?"
"It's my responsibility," MacLean, Nicholas '96, said to the hushed room. "I don't send my staff. They are perfectly capable of doing it, but I feel it's my role. I make the decision and, as a matter of routine, I thank the animal for giving their life. And I think they know. There is a willingness. They are not afraid to get on the trailer (headed to the slaughterhouse) with me."
MacLean's response was the crux of one of the many discussions swirling about the class all semester: How do local, sustainable, small-scale farms really compare to factory farms, where animals are raised and slaughtered in large numbers?
Duke's inaugural university course, "Food Studies: Interdisciplinary Approaches to Why, What and How We Eat," was convened by Laurie Patton, dean of Trinity Arts & Sciences, and co-taught by women's studies professor Kathy Rudy and former organic farmer Charlie Thompson, a cultural anthropology and documentary studies professor. It was open to all members of the community.
The 3-hour class met weekly this spring in the basement of the Divinity School. For the first half of each class, a guest lecturer presented on a topic and another guest responded with an opposing view. Students then asked questions of the lecturers before heading upstairs to The Refectory, an on-campus eatery serving sustainable fare, for small-group discussions and a meal that highlighted the day's theme. 
For example:
-- After discussing the invention of the "factory farm," the class ate deviled ham and canned peas and carrots, food common in the 1950s when canning became popular. 
-- For a class about how best to feed people in developing countries, the students ate inexpensive but nutrient-rich foods such as vegan dal and brown rice.  
-- After learning about genetically modified foods, the students ate food prepared with or related to genetically modified corn. Their hamburgers came from corn-fed cattle and were washed down with Tang. A box of Cocoa Puffs sat on each table. Students fingered the tiny balls of puffed grain during their discussions and pondered how the surplus production of corn might solve world hunger. 
-- Fresh flounder and shrimp caught along the North Carolina shore was served following a discussion on the politics of "food deserts" – areas devoid of healthy affordable food. Guest lecturer Will Allen, the founder of Growing Power, a community farm and food center in Milwaukee, explained how his organization provides affordable fresh food to low-income, inner-city communities. 
Students said they found the classes invigorating and interactive, a chance to literally eat what they've learned. 
"I came into the class being very nutritionally based about my food choices. I was very much rooted only in science. I never really considered the local versus industrial paradigms. But as I've learned more throughout this class, I see the issues are more complicated than just nutrition," said Faiyam Rahman, an undergraduate studying pre-health, math and music.
Although his diet has not changed dramatically as a result of the class, Rahman said he's become more thoughtful about what he eats.
"I've started to take things like culture and politics, things I really don't find interesting intrinsically, into my food decisions," he said.
The semester-long course highlights how what and how we eat has become a hot topic on campus over the past year. Vice President for Student Affairs Larry Moneta says it's been the "year of food" at Duke, beginning with Jonathan Safran Foer's "Eating Animals" being selected as the summer reading book for incoming first-year students. Similarly, Duke's campus farm opened for business, Student Affairs started a food blog and several campus events highlighted food-related issues. 
With student interest growing, the food course filled its 75 slots within 30 minutes of open registration. (For those unable to register, each class was recorded. See playlist.)
Mark Jodesty, a senior studying psychology, was among those who enrolled, and he came away from the class with what he calls a healthier outlook on food. 
"I'm not really good at vegetables. I always tend to go to Wendy's or Chipotle or whatever's easiest to get," said Jodesty. Since the class, "I got a cookbook and started cooking my own food a lot more and got into eating a lot healthier."
Students in the class came from a range of disciplines, including biology, mathematics, business and psychology. Each brought her or his own perspective on food. 
Besides the familiar debate over local versus industrialized food, the class also delved into race, gender and class issues; the high prices charged at farmers' markets; and a critique of agrarian culture in which many laborers are poorly paid.
Based on an initiative she started while on the faculty at Emory University, Patton devised the university course "to pool our collective expertise" and establish what she calls a "pedagogical commons."
"We are one intellectual community, and even though we have awards for our specialized work, it's important to think about it collectively. It's consistent with the university's mission and involves clear self-reflection," Patton said. "All of our expertise comes to bear on a problem. A combination of collaborative efforts has the power to solve real-world problems."
Patton said she chose food studies for the first university course because "I'm interested in everyday culture and the decisions we make. Food is such a part of our everyday decision-making. It's about being conscious of health, business and policy issues that come up every time we decide to eat something. These days we now must think about the 'everyday' in terms of energy, food and water resources."
Rudy, who has been teaching food studies since 2006, says the topic of food, so central to our lives, is not studied enough.
"Food is about gender, race and class (think about who cooks most of the food you eat), about regional identity, spirituality, health and politics and entertainment. You could not find a better topic to tap into," Rudy said. 
Over the semester, the participation of local farmers such as MacLean provided a bonus to those students considering careers in agriculture.
"There's a network of farmers who make farming seem cool and who can share what they know about renting land and buying seeds," said Rudy, who emphasized the importance of farming communities in creating sustainability.
Co-instructor Charlie Thompson was an organic farmer in the 1980s and has been teaching a course on food politics for years.  
Thompson started a small, community garden at Duke, with the help of students, to show the labor involved and that "food access, not just about middle class going to Whole Foods or Bon Apetit. We have to find out the CEO's position on farmworkers."
Rudy and Patton both say Duke's food studies course has differed from courses at other universities because it's open to all students.
"Dean Patton was prescient in organizing the first university course on a subject that dominates the media but has deep roots in so many academic schools and disciplines. I loved hearing from divinity, policy, business, environmental, engineering and other professional school students," Rudy said. 
"It is inherently interdisciplinary," Patton said. "There's nobody checked out in that room."