J. Kameron Carter Takes on Religion and Race in 'Office Hours' April 5
The author of "Race: A Theological Account" answers viewer questions about Christianity and modern concepts of race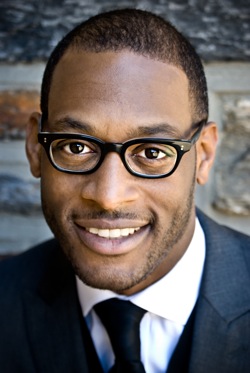 J. Kameron Carter
Race and religion continue to be flash points in American politics and society. In his book "Race: A Theological Account" J. Kameron Carter examines the role of Christianity and Western philosophy in the making of modern perceptions of race. He also uses slave narratives and early Christian thought to find theological arguments he says can counter modern misunderstandings of race and point to a new orientation for the faith.
In a live "Office Hours" conversation April 5, the Divinity School professor answers questions from online viewers about the connection between the identity of Jesus and the concept of race.
"Christian theology at its best should be a fugitive discourse," Carter said in a recent interview. "It thinks from the position of the slave who 'steals away,' as the Negro spiritual puts it."
The magazine Christian Century called "Race: A Theological Account" a "great book by any standard. Its breadth and depth are impressive beyond measure."
Watch the video of Carter preaching at Duke Chapel the Sunday before Martin Luther King Jr. Day 2012.
Carter is an associate professor in theology and black church studies. This semester he is teaching courses on the German theologian Dietrich Bonhoeffer and the theology of atonement.
Duke's "Office Hours" webcast series allows members of the Duke community and others to engage in live conversations with faculty about their research and scholarship. Visit the Office Hours website to see a schedule of upcoming topics, watch past episodes and sign up for email reminders.