Duke Student Paulie Harraka Takes to NASCAR Track in Rockingham Sunday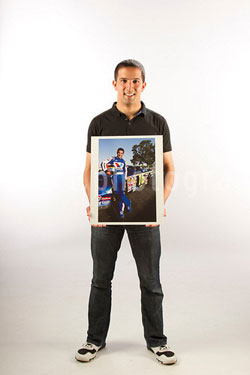 Duke student and NASCAR driver Paulie Harraka is taking a break from preparing from graduation next month to help return NASCAR truck racing to historic Rockingham Speedway in Rockingham, NC, this weekend.
And as he drives the course in the Camping World Truck Series, he'll carry a salute to American solders through an initiative called "Send a Soldier to the Rock."  Harraka and team Wauters Motorsports No. 5 Ford F-150 will adorn the design for the initiative during the race. In advance off the Sunday, April 15, Good Sam Roadside Assistance Carolina 200 at Rockingham, fans are encouraged to purchase a $20 general admission ticket for distribution to a soldier at nearby Fort Bragg.
"The Armed Forces of the United States of America work tirelessly to protect our nation, our freedoms, and us as individuals," Paulie Harraka said. "With Fort Bragg so close to Rockingham, we want to honor the men and women of the Army and think that dedicating the truck's livery to them is a fitting way for us to say, on behalf of our team and our partners, a heartfelt 'thank you' to those who serve or have served."
Fans interested in contributing to the "Send A Solider To The Rock" program are encouraged to call the Rockingham Speedway ticket office at (910) 205-.8800, or visit online at www.rockinghamspeedway.com
Rockingham Speedway has rich history of NASCAR racing from 1965 to 2004 but the 1.017-mile speedway has never hosted a NASCAR Camping World Truck Series event.
"The Rock is one of the most historic tracks in our sport, and I really can't wait to get there," Harraka said. "We tested the track back in December, and I can tell you firsthand that it's tight and bumpy, which should make for some awesome racing."
The Good Sam Road Side Assistance 200 Presented by Cheerwine Camping World Truck Series event at Rockingham Speedway is slated for Sunday, April 15, at 1 pm.
For more information on Paulie Harraka and Wauters Motorsports visit www.PaulieHarraka.net.