Duke Moving Toward Carbon Neutrality
Climate Action Plan continues to push 'green' behaviors
Built more than 80 years ago, the steam plant on West Campus is undergoing a major renovation that marks the end of coal at Duke.
Furnaces that once burned coal are being replaced with three giant natural gas boilers that provide steam to sterilize surgical hospital equipment, maintain proper humidity for art and lab research and heat academic and medical buildings across Duke. In addition to being sustainable, the retrofitted plant will save Duke up to $400,000 a year in operational costs.
"Moving to cleaner fuels in the campus steam plants was one of the big moves that Duke could make as an institution to meet our climate goals," said Tavey Capps, Duke's sustainability director.
As Duke works to complete the steam plant project, the campus continues its march toward carbon neutrality by 2024 - the main goal when President Richard Brodhead signed the American College and University Presidents Climate Commitment in 2007. Five years after signing the pact, and three years after establishing Duke's Climate Action Plan, the university's carbon footprint is continually shrinking. Greenhouse gas emissions, which include energy use and on-campus transportation and commuting, are down 11 percent from a 2007 baseline, a decrease in carbon output equivalent to the emissions of about 6,113 cars over one year.
Among the reasons for the shift has been the adoption of sustainable energy policies. According to an audit of Duke's greenhouse gas emissions in 2007, 78 percent of all of Duke's emissions came from energy consumption such as heating buildings and powering computers. Last year, it was 72 percent, despite a larger footprint with new offices and buildings like the Smith Warehouse. The reason lies not only in the way Duke uses energy, but supplies it as well.
Last April, the giant pile of black coal outside the West Campus Steam Plant disappeared, signaling Duke's final step of reducing to zero the production of about 80 percent of its steam from burning coal. It was a move recommended by the Climate Action Plan that got Duke off of coal for the first time since the 1920s. In addition to a cleaner-burning fuel at the plants, Duke is now uses a solar-thermal system on the roof of the Bryan Center that provides about 40 percent of the building's domestic hot water.
"Ultimately, utilizing these solar panels is going to displace an amount of steam we use at the Bryan Center to heat water, which means we'll be using less steam and burning less natural gas," said Steve Palumbo, energy manager for Facilities Management. "It's a chain effect of sustainable practices."
Focus on 'green' building
Duke initiatives like a temperature control policy, which maintains heating and cooling within certain temperatures, and the campus' extensive chilled water infrastructure, have helped lower electricity needs. These and other measures helped the university decrease its carbon output through purchased electricity by almost 21,500 metric tons between 2007 and 2011, the amount of emissions from annual electricity use of 2,681 American homes.
Those savings will continue to add up given Duke's focus on green building practices as part of its Climate Action Plan. The plan calls for getting Leadership in Energy and Environmental Design (LEED) certification by the U.S. Green Building for all new construction or major renovations.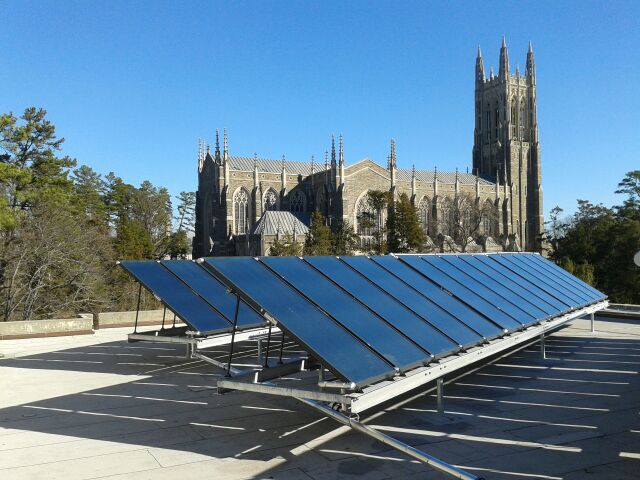 Duke Facilities Management installed 45 solar-thermal panels on the roof of the Bryan Center to heat 40 percent of domestic hot water used in the building. Photo courtesy of Facilities Management.
Duke currently has 22 LEED buildings, from the country's first certified free-standing garage (Sands Parking Garage) to its first LEED platinum residence hall (Home Depot Smart Home).
"Our commitment to sustainability has been built from the ground up through construction and renovation projects," said Tallman Trask, executive vice president. "We started building to higher and more sustainable industry standards before LEED certification was introduced in 2001. We saw LEED as an opportunity to formalize this process and track our progress. Today, we are among the leading universities in the country."
Curbing transportation emissions
While Duke has made consistent strides in energy use, the Climate Action Plan also points the direction for Duke's transportation efforts.
Despite an increase of 13 percent in transportation-related emissions from 2007 to 2011, much of that is due to air travel. This behavior can be hard to influence, since Duke faculty or staff travel to conferences or institutions around the country, including Duke's campus in Kunshan, China. Capps, Duke's sustainability director, said that even though emissions were up, that doesn't mean employees can't make choices to cut down emissions that add up over time.
Capps noted that the increase in transportation-related emissions doesn't include Duke's latest efforts to curb emissions on campus and throughout the Triangle because the reports don't include the 2012 fiscal year.
The GoPass, a free public bus pass for Duke students and eligible employees, is among alternatives to help reduce emissions.
Late last year, Duke introduced two articulated, hybrid buses that use electric charge and low-sulfur diesel fuel. Parking and Transportation Services continues to promote sustainable transit, including providing the GoPass, a free public bus pass that allows students and eligible employees to travel at no charge. More than 6,500 passes have been distributed so far.
"Not only are you saving a lot of money in gas and insurance, but you're saving Mother Earth because you create fewer emissions when you're riding the bus with so many other people," said Mirta Mihovilovic, a senior scientist with the Department of Neurology who rides the bus from Chapel Hill to Durham and back each day with her GoPass.
Duke also partners with Durham to offer the fare-free Bull City Connector as a sustainable public transit option for Duke community members and Durham residents alike. It averages about 1,500 riders each day and connects Duke with downtown Durham.
"Programs like GoPass benefit everyone who takes advantage of them," said Brian Williams, Duke's transportation demand coordinator. "That's what's so special about what we have here at Duke."