"Alexander Calder and Contemporary Art: Form, Balance, Joy" is on view at the Nasher Museum of Art, on view until June 17, 2012. Originally organized by the Museum of Contemporary Art in Chicago, this show looks at Calder through the fresh eyes of seven younger artists who have drawn inspiration from his work.
As the coordinating curator for the show at the Nasher, Sarah Schroth grappled with how to best install more than 30 masterpieces by Calder as well as works by the young artists influenced by his work. 
The first decision was to paint the walls of the first gallery (where the majority of the Calders are hung) a cool gray color as a backdrop for the whites and primary colors Calder used in his mobiles, Schroth said. She also wanted to isolate each Calder work and hang the mobiles low. But to keep viewers at the required distance, the museum had to design and build a special platform system, created in various shapes that repeat the circles and rounded elements in the Calders.
The platforms were painted to match the walls, and they not only echo Calder's forms, but also highlight the interesting cast shadows of the constantly moving mobiles, Schroth said. She also decided to place work by the contemporary artists in close proximity to the Calders to facilitate a closer comparison. 
Here, Schroth discusses her favorite pieces from the exhibit.
1. Alexander Calder's The Spider (1940)         
This work is placed front and center when you enter the first gallery. It combines a white "stabile" element with a mobile of four black interlocking arms with curved elements at the end of each arm. The combination of their shape and the way they gracefully move through space resembles a suspended spider. It was tricky to install, as were most of the works in this show, because the balance has to be perfect in order for it to look and move correctly. Calder was an engineer by training, a fact we came to appreciate during the two weeks of installation. The Spider was once in Mr. Raymond D. Nasher's personal collection, and is now owned by the Nasher Foundation.        
2. Alexander Calder's Little Longnose (1959)
When the crate for Calder's Little Longnose arrived at the Nasher Museum, I immediately thought, well, it doesn't look so little! In fact, at about 5 and a half feet tall, this stabile is close in height to many visitors, and has a great presence: one senses another living being in the room. Reminiscent of a pet with a wagging tail, a dinosaur, or perhaps even an animated version of the long-nose pliers Calder seems to have always had in his hand for bending wire, Little Longnose is at once friendly and mysterious. Calder had a great talent for balancing competing forces in his work, creating a tension between whimsical lightness and an eerie, almost ominous calm. This work is one that will certainly inspire different emotional responses in each viewer.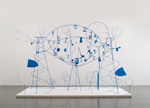 Nathan Carter, Traveling Language Machine. Courtesy of the artist and Casey Kaplan, NY.
3. Nathan Carter's Traveling Language Machine With #3 Frequency Disruptor and Disinformation Numbers Station (2007) 
Like a piece of Dada poetry come to life, Nathan Carter's bright blue sculpture shows numbers and letters floating through the air in an indecipherable cloud. Using steel to draw in space (much like Calder's use of wire and sheet metal), Carter is making the invisible visible. The artist describes this work as his interpretation of radio signals or cell phone transmissions, and among its cartoonish, abstract forms are shapes that resemble radio towers, the horn of a gramophone and the zigzag lines of sound waves.
4. Alexander Calder's Snow Flurries (1951)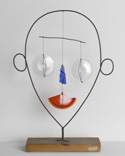 Little Face. Copyright 2012 Calder Foundation, New York / Artists Rights Society (ARS), New York. Photo by Nathan Keay, Copyright MCA Chicago.
Snow Flurries is one of the largest and most complicated mobiles in the show. It took a total of 10 people to hang it, because each arm with its white round disks had to be held in place while the next arm was attached to it, making sure that the hand-painted white elements did not hit against the wire of the arm or against each other. Look carefully at just how many separate arms are involved! The magic moment in its installation was when the very last arm was hung, and we all gently released our gloved hands, and stepped back to let the work find its own balance. 
Alexander Calder's Little Face (ca. 1943)
During World War II, when sheet metal was needed for the war effort, Calder invented new types of works made from recycled materials. In Little Face he has taken a rusted wire, perhaps once a coat hanger, and twisted it into an oval shape with two ears. From the top of the head, he suspended a wire and a cross bar, from which he hung two clear glass circles as the eyes, a broken piece of blue glass for the nose, and for the mouth, a fragment of a red bicycle reflector. It is whimsical and full of personality.