Mediation Helps Restore Working Relationships
Voluntary program provide opportunity to resolve workplace disputes
Two co-workers have a strong disagreement and stop talking to each other. They resort to working around one another instead of with each other. The conflict in their work relationship is causing delays in services and distractions among co-workers. What do they do?
In this case, the Duke employees sought assistance through a mediation program offered through Staff and Labor Relations to help staff discuss and resolve work-related conflict. 
One of the employees who participated in mediation discovered that it was a powerful way to understand how actions and assumptions can fuel conflict. 
"My co-worker and I didn't become fast friends, but we learned to pass along necessary information unclouded by all that extra emotion," the employee said in an interview with Working@Duke. "It made coming to work a whole lot easier."
The mediation program, which is voluntary, helps parties resolve a range of disputes, such as disagreements over work expectations or personality conflicts that impact work productivity, said Dexter Nolley, director of Staff and Labor Relations and co-coordinator of the mediation program, along with Diane Owens.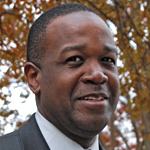 Dexter Nolley
"Unresolved conflicts make everyday interactions difficult," Nolley said. "Mediation helps employees find solutions so they can have a more productive workplace."
The mediation program, an alternative to Duke's formal dispute resolution process, begins by confirming that all parties coming to the first meeting are doing so voluntarily. Participants are reminded that the mediation process is confidential. A report is not provided to a supervisor or placed in a personnel file. 
Mediators are Duke volunteers who complete at least 20 hours of mediation training. Currently, the program has 14 volunteers, who have served up to 40 mediation participants a year. 
Lesa Morrison, a research fellow at the Social Science Research Institute, has mediated at Duke for more than five years. She starts each session by asking participants if they are willing to listen to each other without interrupting. 
"That can be incredibly difficult to do when you are in conflict," she said. "I offer paper so they can jot down notes."
The process continues with identifying issues. Mediators help participants share their experiences. Once participants become clear about needs, mediators can help them explore ways to resolve the conflict. 
"My job isn't to provide a solution," Morrison said. "It is simply to provide an open environment where employees can productively talk."  
The mediation process ends when the participants can mutually agree on next steps to resolve or reduce the conflict and its impact on the work environment. Nolley said most participants reach this point in one or two, two-hour sessions. 
Used effectively, Nolley said, mediation helps individuals and departments meet business needs by minimizing workplace distractions. "The mediation sessions help participants remember and use conflict resolutions skills that are easily replicated in their current or future workplace," he said.